Why Lease The Audi A4 Allroad?
The clue's in the name: The Audi A4 Allroad has all the practicality of the Audi A4 Avant with added off-road potential. It has 37mm more ground clearance than the A4 Avant and a strong, stainless steel underbody guard beneath the engine – which means that steep hills and rugged terrain simply won't present a problem.
Audi A4 Allroad Key Features
• Functionality of Audi A4 Avant With Added Off-Road Potential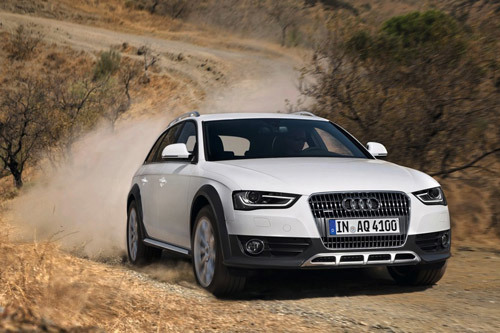 • Four-Wheel-Drive Quattro Technology Offers Superior Control & Grip
• High Clearance & Strong Underbody Easily Tackles Steep Hills & Rugged Terrain
• Up to 1430 Litres Boot Capacity
• Range of Powerful TDI Diesel & TFSI Petrol Engines
Power & Performance
Obviously, a powerful car needs a powerful engine – which is why the Audi A4 Allroad comes with a choice of 2.0 TFSI petrol or 2.0 TDI diesel engines offering a maximum power of 211/4300-6000 PS. Transmission is 6-speed manual as standard.
In addition, Audi's famous four-wheel-drive technology – quattro – delivers optimal drive to each wheel automatically and continuously. This makes for reliable handling and incredible grip even when the going gets tough.
Leasing vs Buying
Nationwide Vehicle Contracts has some fantastic car leasing offers available on the Audi A4 Allroad at competitive UK car lease prices. Leasing the Audi A4 allroad offers many benefits including fixed monthly payments, lower initial deposit, flexible contract duration and mileage terms, as well a inclusive road tax and breakdown recovery.