Why Lease The Audi A4 Saloon?
The latest generation Audi A4 Saloon is one of the strongest, most stylish cars in its class. Put simply, it offers tremendous practicality, versatility and reliability and yet still manages to look every bit as elegant as other, less functional cars.
Audi A4 Saloon Key Features
• High-End Style, Comfort & Luxury with Practicality & Versatility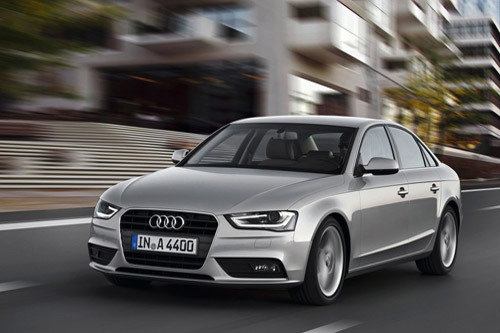 • CO2 Emissions As Low As 112g/km Ensures Lower Road Liability Tax
• Two "Smart Keys" For Customised Driver Settings
• Range of Powerful TDI Diesel & TFSI Petrol Engines
• Optional S Tronic Technology
Power & Performance
The Audi A4 Saloon comes with a choice of powerful TFSI petrol or TDI engines specifically designed to save you fuel with no compromises made on performance.
Start-stop technology automatically cuts the engine when the car is stationary and in neutral – immediately igniting it again the moment you depress the clutch. This prevents the fuel from being needlessly wasted when you're stuck in traffic.
In addition, optional S tronic technology gives you the best of both worlds in terms of transmission – the responsiveness of manual combined with the convenience of an automatic.
Leasing vs Buying
Nationwide Vehicle Contracts has some fantastic car leasing offers available on the Audi A4 Saloon at competitive UK car lease prices. Leasing the Audi A4 Saloon offers many benefits including fixed monthly payments, lower initial deposit, flexible contract duration and mileage terms, as well a inclusive road tax and breakdown recovery.