Why Lease The Audi Q3?
The Audi Q3 is a 5-door SUV built to resemble a coupé. It avoids the boxy feel usually associated with cars in this class and instead favours a streamlined, sporty feel. It's therefore the ideal car for those who want to command any terrain on which they drive – in style.
Off-road potential is assured by Audi's famous four-wheel-drive quattro technology which delivers optimal drive to each wheel automatically and continuously. This makes for reliable handling and incredible grip, even when the going gets tough. In addition, with a ground clearance of 170mm, even shallow streams will prove no match for the Audi Q3.
Obviously, a powerful car needs a powerful engine – which is why the Audi Q3 comes with a choice of TFSI petrol or TDI diesel engines. Gear changing is smooth, seamless and effortless with the help of Audi's S Tronic transmission technology.
Audi Q3 Key Features
• SUV power with coupé styling allows you to travel off-road in style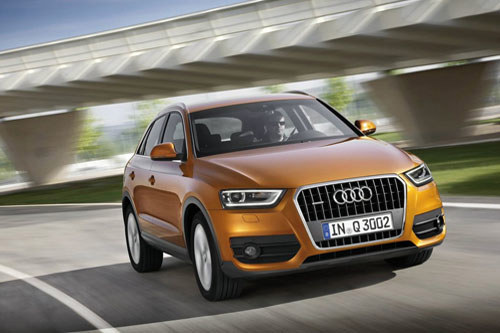 • Four-wheel-drive quattro technology offers superior control and grip
• Electronic Stability Programme (ESP) helps you to keep control
• Folding passenger seats make for incredibly versatile loading space
• Wide range of powerful TDI diesel and TFSI petrol engines
Power & Performance
The Audi Q3 comes with a range of engines designed to suit every need. Whether you want something frugal and functional or something sporty and athletic, there'll be something under the hood just for you.
TFSI technology allows better performance and economy than standard petrol engines – using 10-15% less fuel with no compromises on speed. Meanwhile, the TDI engines are smoother, quieter and more efficient than other diesel engines.
Audi's S Tronic transmission technology allows you to benefit fully from the engine's output at all times. Whether you're crawling, cruising or climbing, S Tronic will effortlessly adapt to the current conditions.
Audi Drive Select
Sometimes you want to cruise, sometimes you want to feel the power. Sometimes you're in it for the long run – a long drive ahead of you – no two journeys are the same. With this in mind, the optional Audi drive select automatically changes handling and response at a simple touch of a button, allowing you to choose from five modes to suit your desired needs: comfort, dynamic, auto, individual and efficient.
Comfort creates a more relaxing ride for longer journeys, whilst Dynamic adjusts steering and throttle for when you're in a sportier mood. Auto mode makes your car take the current driving situation into consideration for automatic adaptation and optimisation. Individual lets you set your own preferences, including the linking of such specialist equipment as sat-nav systems. Finally, Efficiency mode shifts gears up earlier and down later for a more fuel-efficient drive.
Leasing vs Buying
Nationwide Vehicle Contracts has some fantastic car leasing offers available on the Audi Q3 at competitive UK car lease prices. Leasing the Audi Q3 offers many benefits including fixed monthly payments, lower initial deposit, flexible contract duration and mileage terms, as well a inclusive road tax and breakdown recovery.