Why Lease The Audi TT Coupe?
Recognised as What Car? Best Coupé in 2012, it's no surprise that everybody wants to drive an Audi TT Coupé.
And whilst the What Car? award is more than enough to recommend it, the fact that the Audi TT has won the coveted Best Coupé award for six years in a row and the quality begins to speak for itself.
The latest generation Audi TT Coupe has been hailed as "the best it's ever been", with the turbocharged 2.0 TFSI engine offering exhilarating performance at 208 horsepower (211ps). Transmission is a choice between short-shift, 6-speed manual or Audi's innovative S Tronic technology which combines the responsiveness of manual with the ease of automatic.
Audi TT Coupe Key Features
• Iconic design and undeniable prestige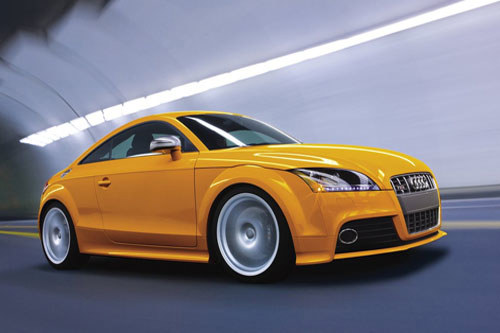 • Winner of six consecutive What Car? Best Coupé Of The Year awards
• Choice of powerful turbocharged 2-litre petrol and diesel engines
• Choice of short-shift manual and innovative S tronic transmission
• Four-wheel-drive quattro technology & optional Audi magnetic ride
Power & Performance
Being an Audi TT, the Coupé is, of course, synonymous with excellent performance. However, you're still free to choose an engine based on the driving experience you wish to enjoy.
The Audi TT TDI offers 168 horsepower (170ps) engine output, a top speed of 140mph and a combined 53.3 miles per gallon. Or perhaps you'd prefer the breathtaking power offered by the 2.0 TFSI petrol engine?
Transmission is 6-speed manual as standard, though optional S tronic technology gives you the best of both worlds – the convenience of automatic combined with the responsiveness of manual.
Superior Handling
Audi's four-wheel-drive quattro technology delivers drive to each wheel as and when it's needed. It works in tandem with the Haldex clutch to distribute driving forces to whichever axle has the better traction. Should the front wheels lose traction, the Haldex clutch will instead ensure that power is channelled to the rear – and vice versa.
This, in conjunction with the optional Audi magnetic ride, works to ensure that you can rely upon superior handling and control at all times.
Leasing vs Buying
Nationwide Vehicle Contracts has some fantastic car leasing offers available on the Audi TT Coupé at competitive UK car lease prices. Leasing the Audi TT Coupé offers many benefits including fixed monthly payments, lower initial deposit, flexible contract duration and mileage terms, as well as inclusive road tax and breakdown recovery.