Why Lease The BMW 1 Series 5 Door?
The BMW 1 Series 5 Door F20 is a stylish hatchback, available in a comprehensive range of specifications and with a wide choice of diesel and petrol engines. It is a popular choice amongst business and personal customers alike – boasting great looks, fantastic fuel economy and impressive performance credentials.
Stylishness is not restricted to this model's exterior. Inside, each model in the 1 Series hatchback range boasts high build quality and features an array of innovative technology. Dimensions are generous and there is plenty of leg and head room – ideal for those long journeys!
You can choose between an 8 speed semi-automatic transmission and a 6 speed manual gearbox on this model.
BMW 1 Series 5 Door: Key Features
• Wide choice of engines, transmissions & specification levels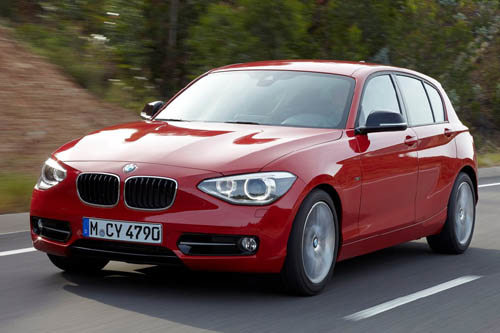 • Maximum five out of five stars in Euro NCAP safety tests
• Efficient Dynamics technology available
• Fun to drive
• Dynamically styled
Power & Performance
There are five engines available for the BMW 1 Series 5 Door F20. The petrol line up consists of two four cylinder units ranging in size from 1.6 litres to 1.8 litres. These provide plenty of punch and are the best option if you want something feisty to drive! Meanwhile, the diesel options range in size from 1.6 litres to 2.0 litres. Each diesel model produces exceptional fuel economy and low CO2 emissions – making this the best option if you are keen to avoid leaving a dent in your pocket and a print on the planet!
The 1 Series 5 Door F20 handles fantastically and is the only rear-wheel drive car in its class. It is well balanced, corners brilliantly and has good body control thanks to sports suspension.
Leasing vs Buying
Leasing is a great alternative to buying a brand new car, with low initial payments, fixed monthly instalments, flexible mileage terms and no worries when it comes to reaching the end of your contract. Nationwide offer a huge range of vehicles at extremely competitive lease rates. All come with road tax and breakdown recovery at no extra cost.