Why Lease The Chevrolet Cruze Hatchback?
The 5-door Chevrolet Cruze Hatchback is a sporty new take on the classic Cruze Saloon model. Through refined engineering it delivers reliably dynamic performance; and throughout you will find an ideal blend of stylish design and everyday practicality.
Nationwide Vehicle Contracts have some excellent leasing offers on the Chevrolet Cruze Hatchback at competitive UK car lease prices.
Chevrolet Cruze Hatchback Key Features
• Coupé-like styling on a practical, everyday hatchback;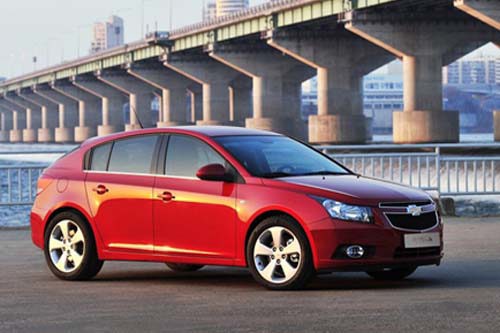 • BFI system for enhanced ride and handling;
• Advanced safety features including ABS, TCS, ESC and EBD;
• Fantastic balance between performance and fuel efficiency;
• Choice of two petrol and one diesel engine


Power & Performance
There are two petrol engines and one diesel engine available for the Chevrolet Cruze Hatchback, each of which has been meticulously refined to deliver an optimal balance between enjoyable, sporty performance and fuel-efficiency.
The petrol range includes a 1.6 litre 124PS and a 1.8 litre 141PS; each of which is available with either 5-speed manual or 6-speed automatic transmission. The 1.7 litre 130PS diesel engine comes with 6-speed manual transmission.
No matter what engine you choose, a smooth ride and agile handling is assured thanks to the Chevrolet Cruze Hatchback Body-Frame Integral system (BFI). Thanks to this, you can look forward to responsive acceleration, solid road-holding and unrivalled stability at all times.
Indeed, Chevrolet insist that it's thanks to this BFI system that the Cruze has won the WTCC no less than three times – in 2010, 2011 and 2012.
Advanced Safety Features
When driving the Chevrolet Cruze Hatchback, technology is on your side at all times. It features such advanced systems as an Anti-lock Braking System (ABS); a Traction Control System (TCS); Electronic Stability Control (ESC) and Electronic Brake-force Distribution (EBD); all of which are implemented to grant you complete control at all times and to prevent accidents from taking place.
But should the worst happen, the Chevrolet Cruze Hatchback contains you within a strong body structure and is fitted with six airbags as standard.
Leasing vs Buying
There are many benefits to leasing the Chevrolet Cruze Hatchback, including fixed monthly payments, a lower initial deposit, flexible contract duration, flexible mileage terms and inclusive road tax and breakdown recovery.