Why Lease The Chevrolet Volt?
Winner of the 2012 Car of the Year award, the Chevrolet Volt is a revolutionary 5-door Extended Range Electric Vehicle (E-REV). Its unique Voltec electric drive system allows for 100% electric power 100% of the time. When the lithium-ion battery is depleted, an on-board petrol powered generator kicks in. As a result, the Chevrolet Volt has a range of up to 300 miles, making it the first ever electric car that's completely reliable for longer journeys.
Nationwide Vehicle Contracts have some fantastic leasing offers on the Chevrolet Volt at impressive UK car lease prices.
Chevrolet Volt Saloon Key Features
• 2012 Car of the Year;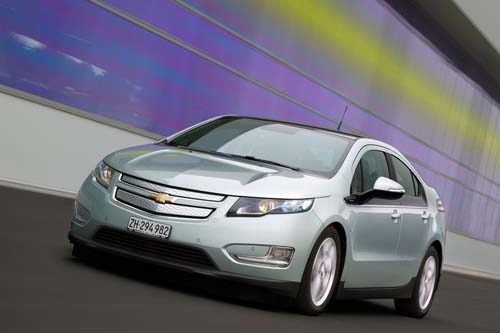 • First ever Extended Range Electric Vehicle (E-Rev);
• Up to 300 miles range;
• Futuristic centre console stack with LCD displays;
• Luxurious interior comfortably seats up to four people
Power & Performance
The Chevrolet Volt Voltec drive system combines a lithium-ion battery with a range extending 1.4 litre petrol engine. It can run for up to 50 miles on battery power alone, at which point you can enjoy zero emissions, zero engine noise and zero vibrations. However, should the battery run flat, you probably won't even notice switching to the petrol engine; at which point you can experience staggeringly low CO2 emissions (27g/km) coupled with a stunning 235.4mpg fuel consumption.
The Voltec drive system runs at 86PS with a top speed of 99mph. It comes with four driving modes: Normal; Sport (for more responsive acceleration); Mountain (power reserve for long and steep grades) and Hold. The latter is designed especially for Europe and allows you to run in extended range mode; holding the battery's charge until you decide when to run at zero-emissions.
Standard to all modes is regenerative braking technology. This means that the energy generating from the moving car is channelled back into the battery system, further enhancing the already ground-breaking efficiency. Finally, those who worry that the experience of driving an electric car will be somehow lacking will find themselves reassured by the nearly instant torque generated, allowing the Chevrolet Volt to accelerate from 0-62mph in as little as nine seconds.
Stunning Interior Design
When you choose an electric car, you should know that you're making no compromises on either power, performance, comfort or style. The interior of the Chevrolet Volt has been meticulously honed to provide, above all, that unforgettable "wow" factor. Inside, you'll find a beautiful mix of comfort and convenience. The moment you see the white centre console stack with its clean LCD displays, you'll know you're looking at the future of motoring.
The Chevrolet Volt can comfortably seat up to four people. High-end equipment including automatic climate control; keyless entry; front and rear park assist with a rear parking camera and a DAB radio all come as standard.
Leasing vs Buying
There are many benefits to leasing the Chevrolet Volt, including fixed monthly payments, a lower initial deposit, flexible contract duration, flexible mileage terms and inclusive road tax and breakdown recovery.