Why Lease The Chrysler Ypsilon?
No matter what colour paint you choose, under the hood the Chrysler Ypsilon is impressively green. With emissions as low as 97g/km, with some models you'll be free from paying road tax and with startling levels of fuel efficiency (up to 74.3 MPG), the Chrysler Ypsilon offers fantastic economy in these days where motorists everywhere are blighted by rising fuel costs.
It has all the style of a 3 door coupé but all the functionality of a larger 5 door model and comes with a choice of engines offering either 5 speed manual or automatic manual transmission.
Chrysler Ypsilon Key Features
• CO2 Emissions As Low As 97g/km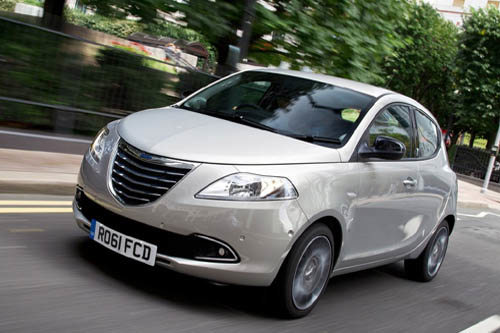 • Incredible Fuel-Eefficiency Of Up To 74.3 MPG
• Magic Parking System with Radar Technology For Easy Parking
• Style of 3 Door Coupé with Functionality of a Larger 5 Door Model
• Integrated Infotainment System with Telephone & Media Player Devices
Power & Performance
Though the Chrysler Ypsilon comes with a choice of high-tech next generation engines, all eyes are on the revolutionary TwinAir and MultiJet options. Engines such as the 0.9 8v TwinAir 85 bhp and the 1.3 16v MultiJet II 95 bhp offer low CO2 emissions making the Chrysler Ypsilon exempt from road tax and, if you're living in London, the Congestion Charge. All Ypsilon engines come with Start&Stop technology as standard. This makes for such an impressive fuel-efficiency that you need not be fazed so much by rising fuel prices.
Infotainment Technology
The Chrysler Ypsilon comes with an integrated infotainment system allows for intuitive interaction with telephone and media player devices. Using a combination of ergonomic controls and hand-free Bluetooth technology, you can at all times be in complete control of calls, SMS messages and music. And, if you go for the optional BOSE 360° Hi-Fi system, your music will sound better than ever.
Leasing vs Buying
Nationwide Vehicle Contracts has some fantastic car leasing offers available on the Chrysler Ypsilon at competitive UK car lease prices. Leasing the Chrysler Ypsilon offers many benefits including fixed monthly payments, lower initial deposit, flexible contract duration and mileage terms, as well a inclusive road tax and breakdown recovery.