Why Lease The Citroen C1?
The new Citroen C1 is a city car especially designed for manoeuvring in tight urban environments, thanks especially to a shorter bonnet and agile handling. What's more, such advanced safety technology as emergency brake assist, ISOFIX anchor points, electronic brakeforce distribution and corner stability control (CSC) are in place to provide optimum safety and stability at all times.
Nationwide Vehicle Contracts have some excellent leasing offers on the Citroen C1 at competitive UK car leasing prices.
Citoren C1 Key Features
• Specifically designed for safe, reliable and stylish urban driving;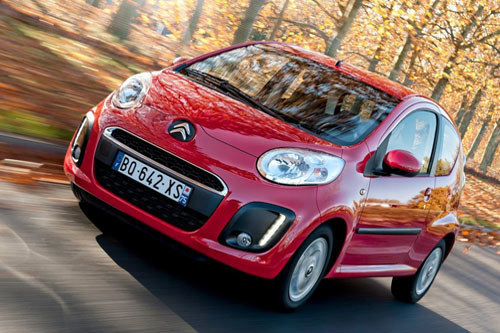 • Sprightly dynamic exterior; comfortable and welcoming interior;
• Advanced safety features including ABS, CSC and emergency brake assist;
• CO2 emissions as low as 99g/km with manual transmission;
• Available with 3 or 5 doors


Power & Performance
The new Citroen C1 is available in three trim levels – VT, VTR and VTR+. Each comes fitted with a reliable and efficient 1.0i 68hp petrol engine. With a top speed of 98mph and acceleration capable of achieving 0-62mph in 13.3 seconds, it provides optimum performance for smooth and enjoyable city driving.
Best of all, when driven with 5-speed manual transmission, the Citroen C1 has a combined mpg of 62.8, with CO2 emissions as low as 99g/km.
Transmission is also available as 5-speed EGS automatic should you choose the VTR+ trim.
Capability & Flexibility
Whether you choose a 3 or 5-door model, the Citroen C1 is only 3.44 metres in length, making it one of the shortest city cars in its category. As a result, its manoeuvrability is unrivalled, with a turning circle of just 9.63 metres between pavements. Tight urban environments need not phase you.
But just because the Citroen C1 is compact, it doesn't necessarily follow that it's small or cramped. Indeed, it can carry up to four adults in comfort with room to spare; the boot can carry up to 139 litres with the seats up or an incredible 700 litres with the seats down.
Leasing vs Buying
There are many benefits to leasing the Citroen C1, including fixed monthly payments, a lower initial deposit, flexible contract duration, flexible mileage terms and inclusive road tax and breakdown recovery.