Why Lease The Citroen DS4?
The Citroen DS4 is a top-of-the range 5-door coupé in which technological excellence, meticulous attention-to-detail and sheer creativity unite to deliver a stylish and refined car that's a genuine joy to drive. Beneath the strong and distinctive exterior lies a harmoniously balanced and soundproofed interior where you are free to enjoy the unbridled thrill of motoring in a state of unrivalled luxury.
Citoren DS4 Key Features
• Winner of the "Most Beautiful Car of the Year" award 2011;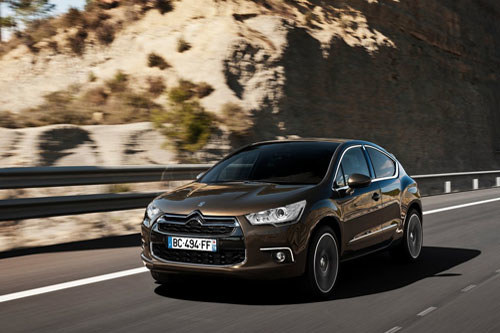 • Executive style carefully balanced with everyday versatility;
• Advanced soundproofing technology for a refined drive;
• High-end smooth and agile performance;
• Choice of three petrol and three diesel engines
Power & Performance
The Citroen DS4 is available with three petrol and three turbo diesel engines. The petrol range includes the VTI 120, the THP 160 and the THP 200; whilst the diesel range incorporates the HDI 110, the HDI 160 and the HDI 135. Each engines has been meticulously refined to deliver the strong, agile, smooth and stable performance suggested by the car's striking silhouette.
In combining executive performance with a superior economy and efficiency, the pick of the range has to be the E-HDI 110. Its 6-speed Electronic Gear System (EGS6) works in tandem with an upgraded Stop & Start function to reduce fuel consumption and CO2 emissions by up to 15%.
Transmission is also available in 5-speed manual, 6-speed manual and 6-speed automatic configurations.
The Joy of Versatility
From the electrical lumbar adjusting front seats with massage functions to the customisable range of polyphonic alarm and warning sounds, you'll notice the attention-to-detail that has been lavished upon the DS4. The result is an executive coupé that does not forget that driving is supposed to be fun.
High-end motoring usually entails that certain compromises be made on everyday utility. Not so with the DS4. You'll find 370 litres of space in the boot as well as numerous storage solutions throughout the car – all designed to make life that little bit easier.
Leasing vs Buying
With fixed monthly payments, a lower initial deposit, flexible contract duration and mileage terms and inclusive road tax and breakdown recovery, there are many benefits to leasing the Citroen DS4. Nationwide Vehicle Contracts have some fantastic leasing offers available on the Citroen DS4 at competitive UK car leasing prices.