Why Lease The Honda Accord Saloon?
The Honda Accord Saloon is a stylish, large – yet modest – vehicle that is as suitable for those who spend the majority of their journey time on the motorways, as it is for those who drive with their families in tow.
The Accord Saloon combines high performance, attractive aesthetics and exceptional practicality. Although all Accord models have sufficiently high specifications, there is still plenty of scope for further upgrades.
This 4 door saloon is available with a choice between automatic or manual transmission.
Honda Accord Saloon Key Features
• Awarded Maximum 5 Stars in NCAP Safety Tests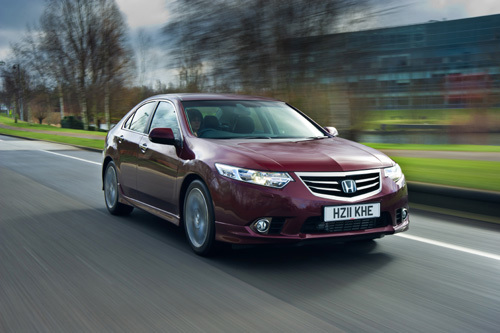 • Euro 5 Emissions Compliant
• Renowned, High Honda Build Quality & Reliability
• Comfortable, Spacious & Practical Interior Design
• Wide Choice of Specification Levels


Power & Performance
The Honda Accord Saloon is available with a choice of compact yet powerful diesel or petrol engines, ranging in size from 2.0 litres – 2.4 litres.
Whether you choose the i-VTec or i-DTec engine, you can rest assured that your Honda Accord will deliver a quiet, smooth, powerful and efficient performance every time the key is turned.
If it is a diesel model you opt for, the recent implementation of an innovative diesel particulate filter ensures that this car rises above many of its competitors when it comes to cleaner exhaust emissions.
Leasing vs Buying
Nationwide Vehicle Contracts provide an extensive range of cars, available to lease at competitive prices. When compared to the costs of buying a brand new car, leasing a brand-new Honda Accord Saloon brings you exceptional value for money – with low monthly payments, modest initial deposit and flexible contract and mileage terms. Furthermore, we are able to offer inclusive road tax and breakdown recovery.