Why Lease The Hyundai i10?
The Hyundai i10 is a 5 door hatchback that combines style, great practicality and clever technologies – all whilst delivering superb economy.
Designed with urban driving in mind, the compact design of this nippy little number makes manoeuvring around the city as much an enjoyable experience as cruising in the countryside.
Available with a wealth of fresh fabrics, colours and textures, the Hyundai i10 is a great car to travel in. Despite its modest size the cabin is deceptively spacious and is sure to comfortably accommodate driver and passengers regardless of their position. Furthermore, air conditioning comes as standard.
The Hyundai i10 is available with a choice between five-speed manual transmission or four-speed automatic gearbox.
Hyundai i10 Key Features
• Compact Design For City Driving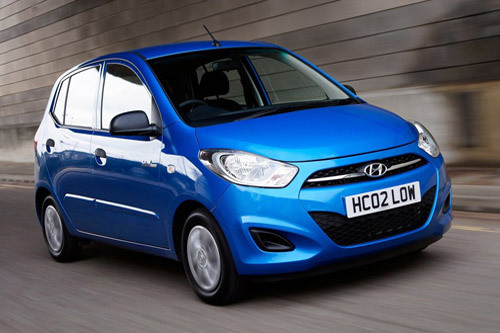 • 'Blue Drive' Equipped Models Exempt From London Congestion Charge
• Highly Economical
• Four Stars in NCAP Safety Tests


Power & Performance
The Hyundai i10 is available with choice between two petrol engines. The eco-focused 'Blue Drive' model comes with a 1.0L three-cylinder engine (68bhp), whilst other models house 1.2L four-cylinder engines (85bhp).
The suspension system on this model ensures that the ride is smooth and stable – regardless of journey type.
Leasing vs Buying
Nationwide Vehicle Contracts offer competitive prices on a wide range of vehicles available to lease on 2, 3 or 4 year contracts. Leasing is a great alternative to buying a new car – with a low initial payment, fixed monthly instalments and flexible mileage terms. Here at Nationwide, we also provide inclusive road tax and breakdown recovery on every vehicle.