Why Lease The Kia Pro-Ceed?
The Kia Pro-Ceed is well built, dynamic and distinctive. It is an athletic 3 door hatchback that that scores highly on style and can be counted amongst the leaders of the class. It is longer, lighter and lower than its sister car the Ceed – yet still makes a great all-rounder and is proving a popular choice to lease.
Like its sister, the Pro-Ceed boasts sleek exterior styling with no compromise on practicality. Reducing the number of doors has not had an effect on the generously proportioned interior – with the load capacity still amounting to an impressive 340 litres and expanding to 1,130 litres when the 60/40 rear seats are folded down.
Comfort levels are sound – with plenty of give in the standard suspension system – and the standard safety specification is high.
The Kia Pro Ceed comes with a manual gearbox (5 or 6 speed), or a 4-speed automatic transmission.
Kia Pro-Ceed Key Features
• 5/5 stars in NCAP safety tests;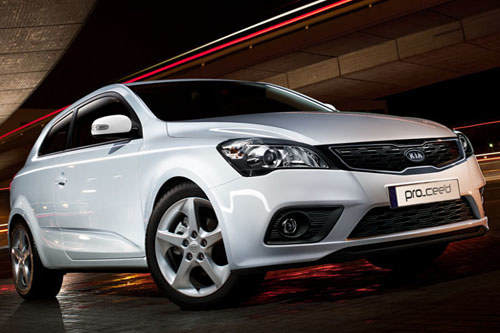 • Affordable running costs;
• Sporty, dynamic styling;
• Practical cabin with ample storage space;
• Euro Emissions compliant
Power & Performance
There is a wide range of powerful and efficient engines to choose from offered with the Kia Pro-Ceed. Petrol engines range in size from 1.4 litre capacity to 1.6 litres; diesel engines are available in the form of a 1.6CRDi or a 2.0 CRDi. All deliver power in a smooth, refined manner and acceleration is generally effortless.
The smaller of the diesel engines can be combined with Kia's 'EcoDynamic' technology – which vastly improves fuel efficiency and lowers emissions. It does so, through cutting the engine when at a standstill and starting it again only when the driver presses the clutch. Even on models without this technology, emissions are relatively low and fuel economy high.
Despite its sporty looks, the Pro-Ceed is still an easy-going and relaxing car to drive. Steering is well-weighted and grip levels are more than sufficient.
Leasing vs Buying
Nationwide Vehicle Contracts offer competitive rates on a wide range of vehicles, available to lease on 2, 3 and 4 year contracts. With inclusive road tax and breakdown recovery on all vehicles, leasing is a great alternative to buying a brand new car and involves a low initial payment, fixed monthly instalments and flexible mileage terms.