Why Lease The Land Rover Discovery 4?
You'll rarely find an SUV with such a flexible combination of style and substance. The 5-door Land Rover Discovery 4 not only looks fantastic, but it also has enough room to seat up to seven adults and features such advanced systems as four-corner air suspension and unique Terrain Response technology as standard.
In 2012 its steadfast reliability was showcased with the successful completion of the 10,000 mile Journey of Discovery; in which a fleet of Discovery vehicles traversed the varied terrain of 13 countries in order to raise money for the Red Cross.
Land Rover Discovery 4 Key Features
• Style meets unbeatable flexibility and capability;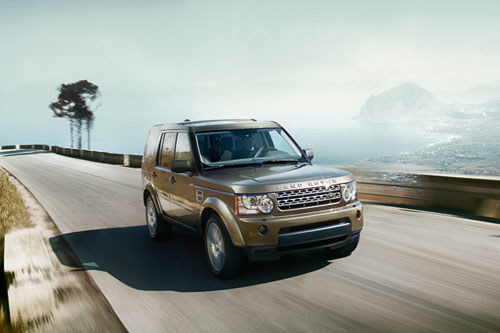 • 3.0 litre SDV6 Turbocharged & Intercooled Diesel Engine;
• Advanced off-road systems including electronic air suspension;
• Enough seating for seven adults;
• Over 4000 litres storage space
Power & Performance
The Land Rover Discovery 4 comes fitted with a high-performance 255hp 3.0 Litre SDV6 Turbocharged and Intercooled Diesel Engine. With a top speed of 112mph, it's capable of achieving 0-66mph in just 8.8 seconds. CO2 emissions have been lowered to 230g/km with an economy of 32.1mpg on a combined cycle.
Transmission is a choice between eight speed automatic and eight speed Drive Select with PaddleShift technology.
Superior Off-Road Potential
With electronic air suspension, you can raise the ride height of the Land Rover Discovery 4 to 125mm. At this height, even the most extreme off-road conditions can be tackled with comparative ease. Indeed, the suspension is so refined that you can enjoy a smooth and comfortable ride, even should the going get tough.
Self-levelling makes for fantastically agile handling, whilst 60 years of off-road expertise has been realised in Land Rover's unique Terrain Response technology. This system fine-tunes vehicle settings for a variety of terrain conditions. Mud, gravel, grass, snow, rocks and tarmac: the sky is very much the limit.
Leasing vs Buying
There are many benefits to leasing the Land Rover Discovery 4, including fixed monthly payments, a lower initial deposit, flexible contract duration, flexible mileage terms and inclusive road tax and breakdown recovery.