Why Lease The Mazda 3?
There are two variations of the Mazda 3: The Mazda 3 Hatchback is astoundingly fuel-efficient and enormous fun to drive, the Mazda 3 MPS, on the other hand, is a compact performance car that offers an overall more thrilling driving experience. Both incarnations are 5-door and come with a wide selection of advanced petrol and diesel engines.
Nationwide Vehicle Contracts have some excellent leasing offers on the Mazda 3 at competitive UK car lease prices.
Mazda 3 Key Features
• Available a 5-door hatchback additionally available in a Mazda Performance Series (MPS) version;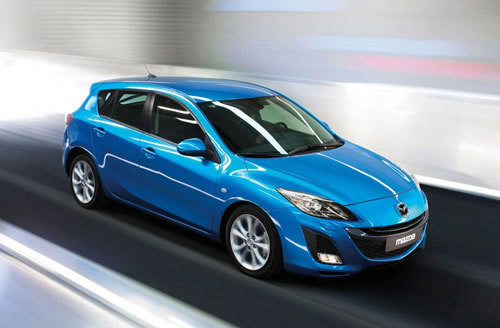 • 5 Star Euro NCAP rating for safety;
• Up to 65.7mpg with CO2 emissions as low as 115g/km;
• Spacious, comfortable and ergonomically refined interior;
• Choice of advanced petrol and diesel engines
Power & Performance
The Mazda 3 Hatchback comes with a choice of three engines depending on the trim level selected. There's a 1.6 litre petrol engine, a 1.6 litre turbo diesel engine and a powerful 2.2 litre 185ps turbo diesel engine. Transmission is available in 5-speed or 6-speed manual or 4-speed automatic.
These engines work with advanced integrated technology and engineering to create a driving experience for the Mazda 3 Hatchback that's simultaneously fun, responsive and fuel-efficient. It's capable of up to 65.7mpg on a combined cycle with CO2 emissions as low as 115g/km.
But if you're looking for a thrilling adrenaline rush of a driving experience, look no further than the Mazda 3 MPS. Fitted with a 2.3 litre petrol engine, it has a maximum output of 260ps, a top speed of 155mph and is capable of accelerating from 0-62mph in just 6.1 seconds. Transmission is 6-speed manual.
High End Interior
Whether you opt for the Hatchback or the MPS, you will find an interior that has been intelligently designed to reflect the unique focus of either variant.
The interior of the Mazda 3 Hatchback, for instance, has been tailored to making your drive as comfortable and intuitive as possible. It's a quiet, spacious and ergonomically perfect environment in which style blends seamlessly with functionality.
On the other hand, the interior of the Mazda 3 MPS is designed to maximise the pure thrill of every trip. Sports-style bucket seats give you an optimal driving position, whilst the leather steering wheel adds a touch of sporting class. Meanwhile, with the 10-speaker Bose audio system, the soundtrack to your journey will sound as good as the drive itself.
Leasing vs Buying
When you lease a Mazda 3 from Nationwide Vehicle Contracts, you can enjoy such additional benefits as fixed monthly payments, a lower initial deposit, flexible contract duration and mileage terms and inclusive road tax and breakdown recovery.