Why Lease The Mazda MX-5 Roadster Coupe?
The Mazda MX-5 Roadster Coupe is the hardtop convertible version of the world's best-selling two-seater sports car. For this car, Mazda took inspiration from the Japanese theory of Jinba Ittai – the unity between horse and rider. You'll feel a special bond with your Mazda MX-5 Roadster Coupe. Complete and intuitive control, agile handling and unbeatable performance make for a genuinely enjoyable driving experience.
Nationwide Vehicle Contracts have some excellent leasing offers on the Mazda MX-5 Roadster Coupe at competitive UK car lease prices.
Mazda MX-5 Roadster Coupe Key Features
• Hard-top convertible transforms from a roadster to a coupe in seconds;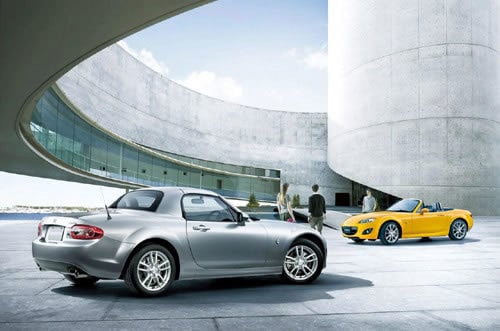 • The best-selling two-seater sports car in the world;
• Choice of two powerful petrol engines;
• Comfortable sports seats with leather steering wheel and gearstick knob;
• Applied Jinba Ittai philosophy for genuinely fun and enjoyable driving experience
Power & Performance
The Mazda MX-5 Roadster Coupe can be fitted with a choice of petrol engines depending on the trim level. The range includes a 1.8i Petrol and a 2.0i Petrol. The 1.8i engine comes with 5-speed manual transmission, whilst the 2.0i is available with either 6-speed manual or 6-speed automatic gearboxes.
When designing the MX-5 Roadster Coupe, Mazda took inspiration from the Japanese notion of Jinba Ittai. The term refers to the indelible bond and unity felt between a rider and a horse. Mazda have applied these principles to the MX-5 Roadster Coupe to ensure that you feel a strong emotional connection with your car – fully in control at all times.
The handling and driving dynamics of the Mazda MX-5 Roadster Coupe are significantly enhanced by the car's tough yet lightweight ultra-high tensile steel body shell. By providing a firmer base from which the chassis and suspension can operate, handling is more agile and driving is infinitely smoother and more enjoyable. Meanwhile, active safety features such as Dynamic Stability Control (DSC) and a Traction Control System (TCS) make for superior road holding when cornering or driving on loose or slippery surfaces.
A Refined Experience
With the top up or down, the Mazda MX-5 Roadster Coupe looks sleek, stylish and beautiful. A simple touch of a button is all that's needed to transform the car from a coupe to a roadster, and the smooth transformation is achieved in just 12 seconds. Because the roof folds between the cabin and the boot, even with the top down you can enjoy an impressive amount of storage space.
The two sports seats, the brushed aluminium dashboard and the leather steering wheel and gear stick knob give a touch of luxury and refinement to the comfortable interior. The list of available equipment includes Bluetooth connectivity, a seven speaker BOSE audio system with a 6-CD changer and 5-stage heated seats.
Leasing vs Buying
When you lease a Mazda MX-5 Roadster Coupe from Nationwide Vehicle Contracts, you can enjoy such additional benefits as fixed monthly payments, a lower initial deposit, flexible contract duration and mileage terms and inclusive road tax and breakdown recovery.