Why Lease The Mercedes A Class 5 Dr?
The 5-door Mercedes-Benz A Class is a premium hatchback that combines sharp style, luxurious comfort and excellent performance into a single compact yet high-quality package. Its bold and distinctive exterior exudes power and demands respect, and meticulous engineering and an advanced range of powerful engines ensure that it performs every bit as beautifully as it looks.
Nationwide Vehicle Contracts have some fantastic leasing offers on the Mercedes-Benz A Class at outstanding UK car lease prices.
Mercedes A Class 5 Dr Key Features
• The most efficient Mercedes-Benz car ever produced;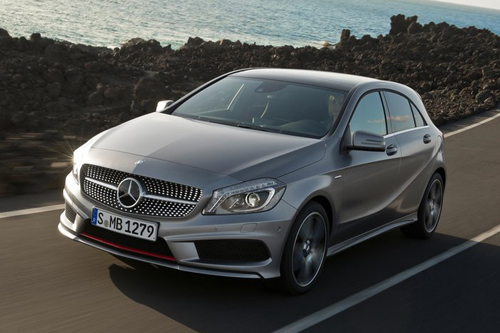 • CO2 emissions as low as 98g/km;
• Supremely spacious and comfortable interior;
• Responsive and agile performance with a choice of engines;
• Extensive range of advanced technology and equipment
Power & Performance
The Mercedes-Benz A Class can be fitted with a choice of petrol and diesel engines, each of which have been designed specifically create an impressive blend of power and efficiency. As standard across the range are such features as start/stop technology, which means that the Mercedes-Benz A Class enjoys CO2 emissions as low as 98g/km. This is easily the most efficient car ever produced by Mercedes-Benz.
For these impressive figures, go for the 180 CDI engine. Also capable of up to 62mpg, when fitted with this advanced diesel engine the Mercedes-Benz A Class is exempt from road tax and the congestion charge. There's another diesel option in the form of the 200 CDI which, despite producing a powerful 300Nm torque, is still capable of 62.8mpg on a combined cycle, with CO2 emissions as low as 118g/km.
But for those who value speed and sportiness over economy, there's also a choice of petrol engines. The range includes three 1.6 litre and 2.0 litre units, which draw from advanced fuel injection and turbo charging technology for optimal power balanced with remarkably low fuel consumption.
Transmission is 6-speed manual as standard, but some models can be fitted with the Mercedes 7G-DCT 7-speed automatic gearbox.
Technology & Equipment
The Mercedes-Benz A Class is available in five trim levels – A 180, SE, Sport, AMG Sport and Engineered by AMG – with the available technology and equipment varying depending on the trim level selected.
The range of standard equipment is as impressive as you might expect from a Mercedes, and includes alloy wheels, Bluetooth Connectivity, an air conditioning system, a multi-functional steering wheel with a trip computer and chrome surrounds for most controls. All models also come fitted with a 5.8 inch tablet style colour display for intuitive control of all infotainment systems.
At higher trims you can expect to find such premium touches as heat-insulating dark-tinted glass, leather trims for the steering wheel, gear shift and handbrake lever and rain sensing windscreen wipers.
Leasing vs Buying
Driving a car as desirable as the Mercedes-Benz A Class becomes a lot more affordable and accessible when you consider leasing. When you lease a Mercedes-Benz A Class from Nationwide Vehicle Contracts, you can look forward to a lower initial deposit, flexible mileage terms and contract durations, fixed monthly payments and inclusive breakdown recovery and road tax.