Why Lease The Mercedes E Class Coupe?
The Mercedes E Class Coupe combines dramatic styling with an air of elegance. With muscular haunches, pillar-less side windows and a long, low stance, it demands attention and is sure to turn heads.
Exquisite styling is not limited to this car's exterior. Inside, this four seat model blends athletic design with sumptuous finishes. Specially designed ergonomic seats look great whilst providing high levels of comfort and support. The cockpit is uniquely designed, and an aircraft-inspired instrument cluster places everything where you need it.
The E Class Coupe is available with a choice between a 6-speed manual gearbox, and 7G-TRONIC 7-speed automatic transmission.
Mercedes E Class Coupe Key Features
• High build quality;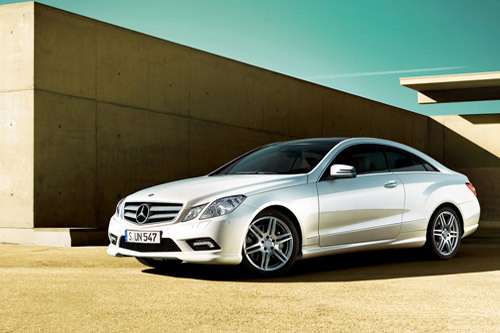 • Distinctive styling: interior and exterior;
• Wide range of fuel efficient engines available;
• Comprehensive safety system as standard;
• Available in two model lines: SE & Sport


Power & Performance
All E-Class Coupe models feature engines that combine generous power and outstanding efficiency.
There are three diesels to choose from, all of which deliver exceptional driving dynamics with low fuel consumption and emissions. These range in size from 2.2 litres – 3 litres. There are also four petrol engines available, ranging in size from 1.8 litres – 5.0 litres.
All BlueEfficiency engines incorporate energy saving measures in order to maximise fuel efficiency whilst keeping emissions minimal.
A ride in the E-Class Coupe is guaranteed to be smooth. Agility Control suspension is fitted as standard, and damping is continuously adjusted throughout your journey to ensure optimum comfort regardless of road type.
Leasing vs Buying
If you want a brand new car minus the worries and high costs often associated with buying, then leasing may be a great alternative – with low initial payments and fixed monthly payments. Nationwide Vehicle Contracts offer a wide range of vehicles at competitive prices – all of which come with inclusive road tax and free breakdown recovery.