Why Lease The Mercedes SLK Roadster?
The Mercedes SLK is a celebration of iconic roadster design. It boasts a distinctively sporty exterior – with a wide stance, long bonnet and short rear end. Aerodynamics have been finely tuned to promote a performance that is second-to-none.
Inside, high sided sports seats provide driver and passenger with outstanding support – important when putting this model to the test on both open and winding roads. Specification levels are high, and the cabin is luxurious and comfortable.
The SLK is the perfect choice to lease if you are looking for a versatile sports car that boasts great looks, efficient economy and supreme levels of comfort.
Mercedes SLK Roadster Key Features
• Comprehensive safety system;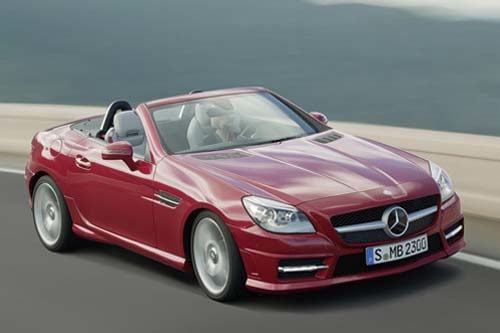 • Great looks – inspired by the 1950's iconic 190 SL model;
• Improved levels of fuel economy;
• Wide range of powerful engines;
• Generously specified
Power & Performance
There is a choice between three petrol engine for the SLK, ranging in size from 2.0 litres to 3.5 litres. All are fuelled by petrol and whilst the 2.0L and 2.5L are available with a choice between a six-speed manual gearbox and 7g-Tronic + Automatic transmission; the most powerful engine can be combined only with the automatic gearbox.
All engines pack out a sufficient punch, with times taken to reach 0-62 mph ranging between 5.6 and 7.0 seconds.
To handle, this model is extremely pleasant, due to high agility levels and fantastic grip when challenged with light corners and twisting roads.
The most recent SLK has been subject to improved fuel economy and lowered emissions – aided on some models by BluEfficiency technology.
Leasing vs Buying
Leasing provides a great alternative to buying a brand-new car and guarantees the security of fixed monthly instalments, a modest initial payment and flexible mileage terms. All cars offered to lease by Nationwide are competitively priced and come with free road tax and breakdown recovery.