Why Lease The Nissan Micra?
The Nissan Micra is a 5-door supermini which offers the best of both worlds – boosted performance with a stunning economy!
Ground breaking DIG-S engine technology makes for an enhanced fuel economy of up to 65.7mpg with sub 100g/km emissions with manual transmission. All of this has been achieved without any compromises on handling, responsiveness and performance.
The Nissan Micra comes with a choice of petrol engines, with 5 speed manual transmission as standard.
Nissan Micra Key Features
• Reliable performance combined with superior economy;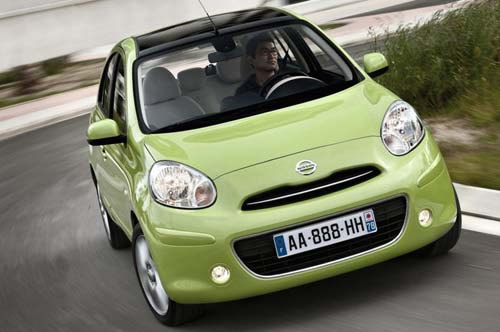 • DIG-S engine one of cleanest petrol engines in the world;
• Up to 65.7mpg with sub 100g/km CO2 emissions on some configurations;
• Park Assist technology;
• Flexible practicality with split folding seats for extra storage technology;


Power & Performance
Though the Nissan Micra comes with a choice of engines, the high-tech DIG-S engine perhaps deserves the most attention, as it is one of the cleanest petrol engines in the world. The low friction, 3-cylinder petrol engine allows not only for smooth and effortlessly reliable performance, but also for a cleaner, more economically sound drive.
On a combined cycle, the Nissan Micra can achieve up to 68.9mpg with CO2 emissions from 95g/km based on manual transmission.
In addition, the inbuilt Stop/Start system on DIG-S versions of the Nissan Micra actually stops the engine when the car is idle, further saving energy and emissions.
But a greener engine need not be a less powerful engine. Indeed, the responsive Nissan Micra is capable of achieving 0-62mph in just 11.2 seconds whilst offering so much power and torque that you'll swear you're driving a bigger car.
Convenience Through Technology
One of the biggest daily headaches faced by motorists is parking – particularly in tighter spaces. The latest generation Nissan Micra comes with Park Assist technology capable of informing you whether your car will fit in any given space.
Other technological highlights include Nissan Connect for integrated GPS, Bluetooth, USB and iPod connectivity; cruise control and a speed limiter for more streamlined, stress-free motorway driving and automatic air conditioning.
Leasing vs Buying
Nationwide Vehicle Contracts has some fantastic car leasing offers available on the Nissan Micra at competitive UK car lease prices. There are many benefits to leasing the Nissan Micra, including fixed monthly payments, lower initial deposit, flexible contract duration and mileage terms, as well as inclusive road tax and breakdown recovery.