Why Lease The Nissan Qashqai?
The Nissan Qashqai is a 5-door crossover which combines the ground clearance and power of a 4x4 with the sprightly agility of a hatchback.
Technological innovations include the Around View Monitor (AVM). Using four cameras, it makes parking painless and effortless through giving you a bird's eye view of your car and its surroundings. You'll be able to back into even the tightest of spots with serenity and ease.
The Nissan Qashqai comes with a choice of engine configurations, including the 1.6dCI diesel. This makes for fantastic performance, impressive economy and admirably low CO2 emissions. Transmission is available in both manual and automatic.
Nissan Qashqai Key Features
• The ultimate urban driving experience;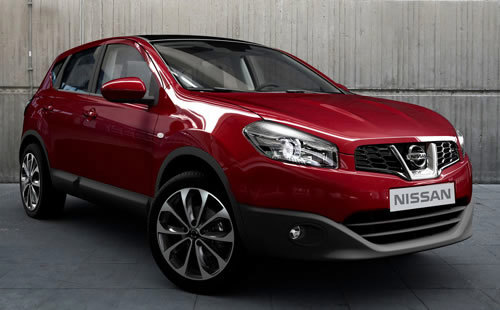 • 4x4 handling combined with hatchback agility;
• Fantastic performance, tremendous economy and low CO2 emissions;
• AVM system for effortless parking;
• Stylish "no nonsense" looks
Power & Performance
The Nissan Qashqai was designed with the city in mind. To that end, its engines are intended to give high-end performance with as low emissions as possible.
The 5-gear 1.6 16v Manual 2WD petrol delivers 117ps and achieves 45.6mpg on a combined cycle. However, for those wishing for superior economy, there's the 6-gear 1.5 dCi Manual 2WD diesel which delivers 110ps but is capable of 54.3mpg. With the help of its diesel particle filter, it also boasts lower CO2 emissions, which means lower road tax.
Other available configurations offer automatic transmission, four wheel drive and an efficiency boosting, waste reducing stop/start system.
Leasing vs Buying
When you lease a Nissan Qashqai, you get all manner of benefits including fixed, affordable monthly payments; a lower initial deposit; flexible contract duration and mileage terms, as well as inclusive road tax and breakdown recovery. Nationwide Vehicle Contracts has some fantastic car leasing offers available on the Nissan Qashqai at competitive UK car lease prices.