Why Lease The Peugeot 508 Saloon?
The Peugeot 508 Saloon is a 5-door touring car which has been lavished with such attention-to-detail as can be felt immediately, inside and out. From the streamlined, almost feline exterior to the elegantly styled luxurious interior, the Peugeot 508 Saloon communicates premium quality throughout; and you just know that it will perform every bit as good as it looks.
Nationwide Vehicle Contracts have some outstanding leasing offers on the Peugeot 508 Saloon and competitive UK car lease prices.
Peugeot 508 Features
• Refined and luxurious executive driving experience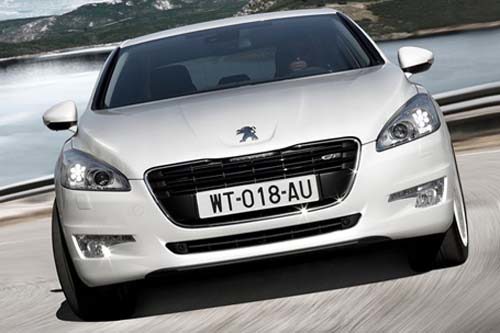 • Spacious and meticulously appointed interior
• Versatile with up to 1,581 litres of storage space
• ESP and advanced suspension for smoother drive and superior road-holding
• Choice of petrol and diesel engines to suit every driving style


Power & Performance
The Peugeot 508 Saloon can be fitted with a wide selection of efficient diesel engines and a choice of two powerful direct injection petrol engines. The petrol range includes the 6-speed semi-automatic 1.6L VTi 120bhp and the 6-speed manual 1.6L THP 156bhp.
Though ideal for those who want to enjoy the Peugeot 508 as a powerful touring car, undoubtedly more impressive are the range of advanced HDi and e-HDi diesel engines. The 6-speed semi-automatic 1.6L e-HDI 112bhp Stop and Start system is incredibly efficient for a car of this class; capable of 67.2mpg on a combined cycle with CO2 emissions as low as 109g/km.
Of course, with the mighty 2.0L HDi 200bhp, the diesel range also offers an ideal choice for those who are interested in sporty power. And thanks to the integrated FAP particle filter, all diesel engines record barely-noticeable particulate emissions.
All engines, petrol and diesel, work harmoniously with the Peugeot 508 Saloon's suspension system to deliver superior road-holding and effortlessly smooth driving.
First-Class Comfort
Sit within the Peugeot 508 Saloon and you'll immediately recognise the dedication that's gone into creating a truly prestigious driving experience. With the quad-zone air conditioning, the adjustable seat cushions on the two front seats and the ample leg-room for driver and passenger alike, every journey will feel like a first-class excursion.
Indeed, the spacious and versatile interior also makes the Peugeot 508 Saloon a remarkably practical option. In the boot you'll find an impressive 545 litres of storage space (including 48 litres under the floor). Fold the seats down and this is boosted to a staggering 1,581 litres.
Leasing vs Buying
Why buy when you can lease? Leasing the Peugeot 508 Saloon from Nationwide Vehicle Contracts grants you such unmissable benefits as fixed monthly payments, a lower initial deposit, a flexible contract duration and inclusive road tax and breakdown recovery.