Why Lease The SEAT Exeo?
The Seat EXEO is a 5-door large family car which combines high-end performance with top-of-the-range technology to create a flagship model which exudes quality, luxury and desirability.
The interior has been designed to offer the last word in comfort and driving pleasure. Under the bonnet, you'll find a choice of 2.0 litre petrol and diesel engines capable of delivering up to 211PS.
The optional 7-gear Continuously Variable Transmission technology is just the start of a very long list of technological innovations implemented to make the driving experience as smooth, safe and enjoyable as it could possibly be.
SEAT Exeo Key Features
• Specifically designed for a wholly enjoyable driving experience;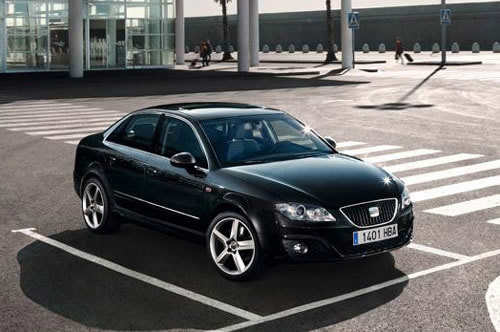 • Sophisticated, elegant design exudes sporty exclusivity;
• Luxurious, spacious interior for maximum comfort;
• Choice of powerful 2.0 litre petrol and diesel engines delivering up to 211PS;
• ESC, ABS and EBA technology for optimum safety and stability
Power & Performance
The 2.0 TSI 211PS petrol engine is capable of accelerating the SEAT EXEO from 0 to 100km/h in just 7.1 seconds, with the top speed being an unbelievable 244 km/h.
There's also a choice of three 2.0 TDI CR diesel engines. The pick of the bunch has to be the 2.0 TDI CR 143 PS Multitronic CVT. Continuously Variable Transmission can either be fully automated or operated manually with seven predefined forward gears selected with shift panels mounted to the steering wheel.
And, as all diesel engines come fitted with Diesel Particulate Filters and meticulously appointed Common Rail engineering makes for uncommonly quiet, light and efficient performance for diesel engines.
Control & Stability
The SEAT EXEO's Traction Control System (TCS) works hard to ensure that the engine always works at its optimum level, with not an ounce of horsepower going to waste.
Electronic Stability Control (ESC) constantly monitors information from the steering wheel, tyres, accelerator and brakes, keeping you in control at all times through making adjustments as and when they're necessary.
The Anti-Lock Braking System (ABS) prevents your wheels from locking up in heavy braking situations, making those sudden stops that little less harrowing.
Finally, Emergency Brake Assist (EBA) recognises "panic stops" and helps you out through applying maximum braking power within a fraction of a second. This significantly reduces the stopping distance and the possibility of accidents.
The SEAT EXEO has your back.
Leasing vs Buying
There are many benefits to leasing the SEAT EXEO, including fixed monthly payments, lower initial deposit, flexible contract duration and mileage terms, as well as inclusive road tax and breakdown recovery. Nationwide Vehicle Contracts has some fantastic car leasing offers available on the SEAT EXEO at competitive UK car lease prices.