Why Lease The SEAT Ibiza Estate?
The standard SEAT Ibiza is an ideal car for many drivers, but that doesn't mean there is no room for improvement whatsoever. Whilst it offers a driving experience that's smooth, safe, powerful, economical and genuinely fun, things can get crowded if you have a large family or if you're on a long holiday: some people just need more space.
Enter the SEAT Ibiza Estate: A 5-door estate which boasts 138 litres more room than its supermini counterpart.
The SEAT Ibiza Estate comes with a range of petrol and diesel engines designed to offer the reliable performance you would expect from a powerful estate with added fuel efficiency and environmental credentials. And, with optional Direct-Shift Gearbox transmission you get the convenience of an automatic combined with the economy and responsiveness of a manual.
Truly, then, the SEAT Ibiza Estate is a car which offers the best of many worlds.
SEAT Ibiza Estate Key Features
• 138 litres more interior space than standard SEAT Ibiza;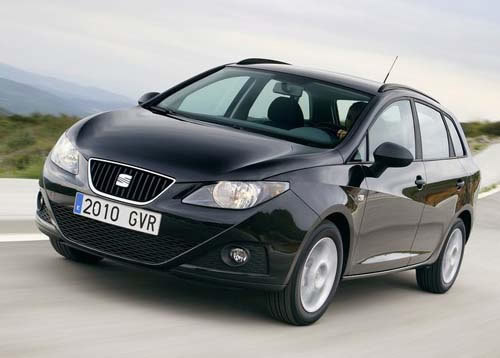 • Versatility of an estate with the elegant and dynamic athleticism of an Ibiza;
• Powerful engines with impressive economy;
• Ecomotive range of engines for class-leading low emissions;
• Direct-Shift Gearbox for smooth, effortless gear changes
Power & Performance
Ecomotive engines include innovations such as Start/Stop technology, aimed at the economically and emission conscious drivers: saving money and the environment. For example, the 1.2 TDI CR 75PS Ecomotive CO2 emissions as low as 92 g/km, which makes it a class-leader amongst diesel engines.
Meanwhile, the 1.2 TSI 105PS has emissions at just 119 g/km CO2.
Put simply, the SEAT Ibiza Estate is a car that questions the idea that larger vehicles make for larger carbon footprints.
Driving Without Compromises
Never mind offering the best of both worlds. The SEAT Ibiza Estate offers the best of many worlds. Enough interior space to meet most every one of your storage needs with no compromise on appearance or style. Economical, fuel efficient petrol and diesel engines with no compromise on power and performance. Direct-Shift Gearbox transmission technology which combines the convenience of an automatic with the responsiveness of a manual.
No matter how you drive a SEAT Ibiza ST, you drive without compromise.
Leasing vs Buying
There are many benefits to leasing the SEAT Ibiza ST, including fixed monthly payments, lower initial deposit, flexible contract duration and mileage terms, as well as inclusive road tax and breakdown recovery. Nationwide Vehicle Contracts has some fantastic car leasing offers available on the SEAT Ibiza ST at competitive UK car lease prices.