Why Lease The Skoda Roomster?
The 5-door Skoda Roomster is a technologically advanced MPV that sets new standards in practicality. Its innovative interior is split into two separate areas – the "Driving Room" and the "Living Room" - and each area has been specifically designed to meet a very specific set of needs in order to ensure maximum comfort and enjoyment throughout each and every journey.
Nationwide Vehicle Contracts have some excellent leasing offers on the Skoda Roomster at competitive UK car leasing offers.
Skoda Roomster Key Features
• Winner of two prestigious awards including 2007 Caravan Club Best Tow-car;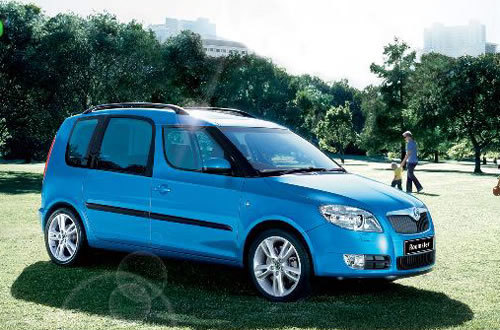 • Up to 1,810 litres storage space;
• Two distinct areas - "Driving Room" & "Living Room";
• Built to drive and feel like a conventional hatchback;
• Outstanding selection of petrol and diesel engines


Power & Performance
The Skoda Roomster can be fitted with a choice of six engines – three petrol and three diesel. The petrol range includes the entry level 1.2 litre 12V 69PS, though the turbocharged options offer the sort of power you might expect from a car of this size. The 1.2 litre TSI is available with an output of either 86 or 105PS.
The common rail diesel engines, though, provide a fine balance between robust power and impressive efficiency. The 1.2 TDI CR 75PS, for example, is capable of 76.4mpg on a combined cycle, with CO2 emissions as low as 109g/km – truly astounding figures for an MPV.
The diesel range also includes a 1.6 litre TDI CR option available at either 90 or 105PS. Transmission is generally 5-speed manual, though the 1.2 TSI 105PS can also be fitted with a 7 speed automatic direct shift gearbox (DSG).
Ground Breaking Design
The Skoda Roomster sets new standards for the MPV sector. It's interior is ingeniously divided into two distinct sections – the "Living Room" and the "Driving Room".
The Driving Room has been cleverly designed to replicate the experience of driving a particularly upmarket hatchback. You simply won't feel like you're in an MPV, whilst such additional features as a multi-function steering wheel and an integrated trip computer make driving the Skoda Roomster a simple and enjoyable experience.
The Living Room, on the other hand, is a light, bright and airy space in which your passengers can are free to relax in a peaceful and stress-free environment. Optional Varioflex seats provide you with over 20 different seating combinations, making it possible to boost your available storage space to a staggering 1,810 litres.
Leasing vs Buying
With our flexible approach to contract duration and mileage terms, leasing the Skoda Roomster from Nationwide Vehicle Contracts couldn't be easier. Best of all, vehicle lease, road tax and breakdown recovery are all contained within one convenient fixed monthly payment.