Why Lease The Skoda Superb?
The Skoda Superb is a 5-door luxury family car that more than lives up to its name. This is the pinnacle of Skoda's commitment to perfection in the fields of engineering, refinement and performance. In the Skoda Superb, you'll find more rear legroom than in most any other executive car. It's also the first car to ever boast a boot that can either be opened as a hatch or a saloon – just a small example of the many technological innovations that serve to make this Skoda Superb by name and nature.
Nationwide Vehicle Contracts have some fantastic leasing offers on the Skoda Superb at outstanding UK car lease prices.
Skoda Superb Key Features
• Winner of 20 illustrious awards including six "Best Estate" awards and four "Best Family Car";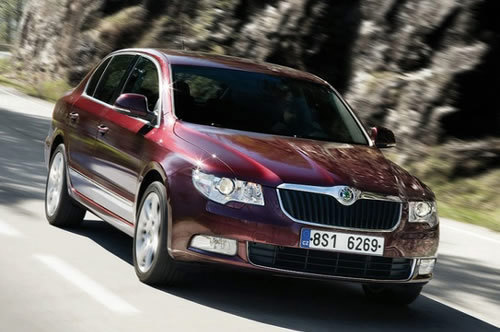 • 2009 Top Gear Luxury Car of the Year;
• First ever Twindoor boot operates as both hatch or saloon;
• Class-leading legroom for driver and passenger alike;
• Extensive choice of advanced petrol and diesel engines


Power & Performance
Whether you prefer petrol or diesel,the Skoda Superb is bound to have an engine configuration to suit your specific driving style.
The petrol range includes a selection of punchy, powerful and efficient TSI engines ranging from 1.4 to 1.8 litres and delivering between 125 and 160PS. There's also an impressive 2.0 litre T FSI 200PS option and, for those who really want to enjoy the maximum amount of power of which the Skoda Superb is capable, there's the formidable 3.6 litre V6 4x4 260PS option.
The common rail TDI diesel engines, though, offer an optimum balance between impressive output and advanced efficiency. They range in size from 1.6 to 2.0 litres with an output between 105 and 170PS, but the best all-rounder would have to be the 1.6 TDI CR 105PS Greenline II. It provides reliable and responsive power and is capable of 64.2mpg on a combined cycle. It also produces CO2 emissions as low as115g/km – particularly remarkable for a car of this size and potential.
Transmission options vary depending on the trim and engine selected, though it generally comes in the form of 5-speed fully synchronised manual. Some engines can also be fitted with a 6-speed automatic DSG gearbox with ultra-smooth Triptronic gear changes.
Class Leading, Ground Breaking Features
The interior of the Skoda Superb is a refined haven of luxury in which road, engine and wind noise has been reduced to a barely-noticeable level. The first-class feel is further reinforced by the amount of legroom enjoyed by driver and passenger alike. In the rear, you'll find greater levels of personal space than in most any other luxury family car.
The Skoda Superb is also the first ever car to feature the innovative Twindoor. At the touch of a button, you can enjoy increased versatility through switching between a hatch and a saloon opening mechanism. Indeed, with up to 1,700 litres of storage space, the Skoda Saloon is in many ways an example of a truly practical luxury family car.
Leasing vs Buying
The Skoda Superb is just one of the many high-quality family cars available for leasing from Nationwide Vehicle Contracts. Our mileage terms and contract durations are flexible, and we make sure that you only ever have to worry about a single fixed monthly payment through providing inclusive road tax and breakdown recovery.