Why Lease The Smart Fortwo Coupe?
The 3-door, 2-seat Smart Fortwo Coupe was seemingly engineered to address every problem posed by urban driving. Because it's so compact, it can navigate those tight and narrow streets with ease. It's also capable of parking in small spaces that you wouldn't even consider when driving a larger car. Yet despite its small size, there's plenty of room for its two occupants with 220 litres of storage space left over. The Smart Fortwo Coupe is simple and enjoyable to drive. And with its unmistakable style, it looks the part, too.
Smart Fortwo Coupe Key Features
• Stylish, compact and remarkably fun to drive;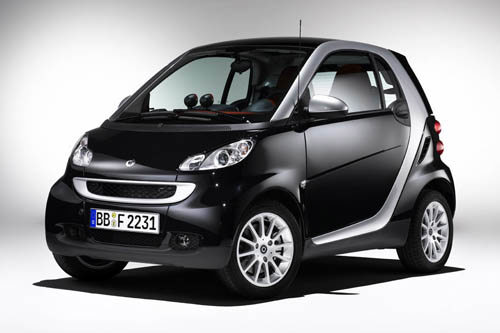 • Specifically designed for easy and enjoyable city driving;
• Ride-enhancing active safety features;
• Surprisingly spacious interior with 220 litre cargo capacity;
• Choice of efficient petrol and diesel engines


Power & Performance
The Smart Fortwo Coupe comes with a choice of three petrol engines: a three cylinder available with either 71 or 84hp and a 102hp turbo in-line option. The 71hp option, with its micro hybrid drive, drives CO2 emissions as low as 99g/km. More efficient still is the three cylinder common-rail 54hp turbodiesel engine, which boasts CO2 emissions as low as 86g/km. These supremely green figures mean that the Smart Fortwo Coupe is eligible for exemption from the London congestion exemption charge, making it even more appealing as a city car.
The Smart Fortwo Coupe is fitted with an advanced range of active and passive safety features that significantly enhance your control when steering, cornering or swerving. The list includes an electronic stability programme (ESP), an anti-lock braking system (ABS), hydraulic brake assist and acceleration skid control. These systems are designed to make a collision less likely, but should the worst happen, the Smart Fortwo Coupe tridion safety cell keeps you and your passenger safe.
Transmission, too, is designed to be as simple as possible. The softip option reverts automatically to first gear when you stop the car and allows you to shift gears just by tapping the shift lever. The softouch automatic option takes care of everything for you, but you can revert to the more nimble and responsive softip option just by moving the shift lever. There's even the option of F1 shift paddles on the steering wheel.
Style & Equipment
With its distinctive style, range of colours and zippy movements, the Smart Fortwo Coupe is a commanding presence despite its compact size. This is a car that's guaranteed to turn heads. On the inside, too, you can take pride in the impressive levels of space and the clear, uncluttered dashboard.
The Smart Fortwo Coupe can be fitted with an extensive range of equipment that further enhances its role as an intuitive and enjoyable city car. As standard you'll find such features as alloy wheels, air-conditioning and Bluetooth connectivity. At higher trim levels you'll find such things as a panoramic glass roof, an integrated sat-nav system, sports suspension and even heated leather seats.
Leasing vs Buying
For a car as simple and stress-free as the Smart Fortwo Coupe, it seems fitting that you should only have to worry about one payment each month. To that end, when you lease a Smart Fortwo Coupe from Nationwide Vehicle Contracts, breakdown recovery and road tax included. With such simplicity, you're free to focus on the considerable pleasures of driving.
We're flexible when it comes to mileage-terms and contract duration, and we also lease the Smart Fortwo Cabriolet model.