Why Lease The Toyota Landcruiser?
The Toyota Land Cruiser is a versatile 4x4 that's been built for comfort, practicality and reliability. Everything – from the optimal position of the drivers seat right down to the noise and vibration-absorbing body-on-frame construction – has been designed to make your drive easier, more comfortable and more enjoyable. Meanwhile, the 4x4 drive, the 3.0 litre diesel engine and an extensive range of advanced active safety features unite to ensure a smooth ride and total control on even the most challenging of terrains.
The Toyota Land Cruiser is available as both a 3-door and a 5-door model. Nationwide Vehicle Contracts have some excellent leasing offers on the Toyota Land Cruiser at competitive UK car lease prices.
Toyota Landcruiser Key Features
• 3-door and 5-door models available;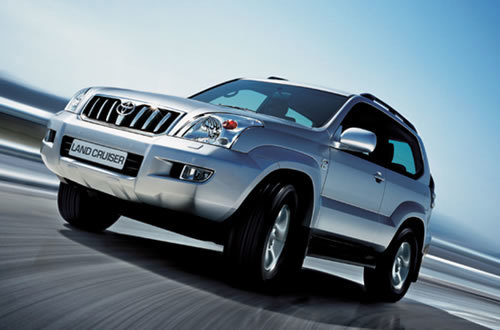 • Strong separate-frame chassis for quiet, comfortable and safe off-road driving;
• Stylish design and refined interior;
• Intelligent adaptive headlights and active safety systems;
• Powerful 3.0 litre diesel engine
Power & Performance
The Toyota Land Cruiser is fitted with a 3.0 litre D-4D engine with precise 5-speed automatic transmission as standard, though a 6-speed manual gearbox is also available. Capable of achieving an impressive 410Nm torque from as little as 1,600rpm, it provides dependable power in challenging conditions.
The clever body-on-frame chassis construction is highly adept at absorbing and dampening noise and vibration, whilst higher trims are fitted with such advanced features as Adaptive Variable Suspension (AVS) and a Kinetic Dynamic Suspension System (KDSS). As a result, even on the most demanding of surfaces, the Toyota Land Cruiser can deliver a smooth and comfortable ride.
Optimal control and handling is delivered thanks to such active safety features as Vehicle Stability Control (VSC), Brake Assist (BA), a Multi-terrain Anti-lock Braking System (ABS) and Active Traction Control (A-TRC). There's also a Multi-terrain Monitor system, which can actually visualise the road ahead of you, helping you to stay on a safe course. And for those treacherous steep inclines, there's Downhill Assist Control (DAC) and Hill-start Assist Control (HAC).
Comfort & Convenience
Toyota have been delivering durable and reliable performance for over 60 years with their Land Cruiser range. Much of their success is due to the ideal balance between comfort, convenience and sheer practicality they've achieved and refined throughout the decades – a remarkable achievement that you'll appreciate the second you sit in the cabin of the latest generation Toyota Land Cruiser.
The driver's seat is perfectly placed for comfort and a commanding view, and it's fully-adjustable, so you can get it just right. Higher trims also provide lumbar support, electric heating and even a seat memory function.
Your passengers, too, will feel the benefits of luxury leather and chrome trims, triple-zone air conditioning and enough interior space to seat up to seven adults. The rear seats can even fold to create a sizeable flat-loading space.
Leasing vs Buying
With flexible contract duration and mileage terms, leasing a Toyota Land Cruiser from Nationwide Vehicle Contracts couldn't be easier. What's more, with the vehicle lease, breakdown recovery and road tax all contained within a single fixed monthly payment, leasing may even prove more affordable and convenient than buying.