Why Lease The Vauxhal Astra?
The Vauxhall Astra is a 5-door hatchback which adds sporty looks and performance to the versatility associated with cars of this size. Everything about it speaks of high-end, premium luxury – from its broad, formidable yet graceful exterior to the sweeping lines and chrome accents of its dashboard.
The Vauxhall Astra comes with a choice of three ECOTEC petrol engines and four advanced ECOTEC diesel engines. Transmission comes in five or six speed manual or six speed automatic.
Vauxhall Astra Key Features
• High end looks, luxury, comfort and performance;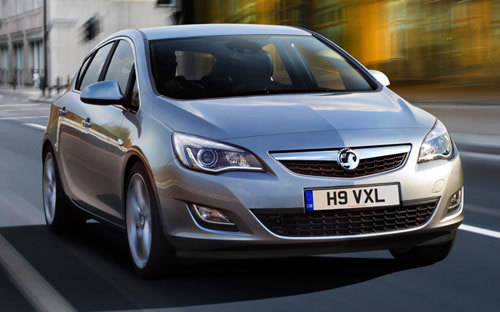 • Ergonomic sports seat to perfectly suit driving posture;
• Split-folded rear seat allows for up to 1216 litres interior storage space;
• FlexRide chassis for reliable safety and stability;
• ecoFLEX technology for impressively quiet, clean and economical engines
Power & Performance
The choice of engines available for the Vauxhall Astra is staggering. No matter what your driving style, you'll definitely find something to suit your specific needs.
In terms of petrol, there's a choice of three ECOTEC engines which can deliver up to 100PS and two turbocharged engines. The 180PS 1.6i 16v VVT, for instance, is the ideal choice for those who really want to feel the power.
There are also four ecoFLEX units to choose from. Combining advanced common-rail multi-injection systems with Start/Stop technology, they make for CO2 emissions as low as 104g/km whilst delivering an impressive 95PS.
Stability, Support & Safety
The Vauxhall Astra's FlexRide chassis works constantly to adapt its behaviour not only to road conditions as and when they change, but also to your unique driving style. In addition, all it takes is the push of a button to switch performance from that of a comfortable cruiser to that of a dynamic sports car.
Meanwhile, such innovations as Continuous Damping Control (CDC), four channel ABS, traction control and ESP work harmoniously to provide maximum support, stability and safety at all times.
The Vauxhall Astra is a car which simultaneously keeps you safe whilst striving to provide the most enjoyable driving experience possible.
Leasing vs Buying
There are many benefits to leasing the Vauxhall Astra, including fixed monthly payments, lower initial deposit, flexible contract duration and mileage terms, as well as inclusive road tax and breakdown recovery. Nationwide Vehicle Contracts has some fantastic car leasing offers available on the Vauxhall Astra at competitive UK car lease prices.