Why Lease The Vauxhall Astra GTC?
The 3-door Vauxhall Astra GTC is an iconic, stylish, sporty city car based on the acclaimed GTC Paris concept car. It's a bold mixture of concept innovation with fiery, sporty performance designed for the everyday driving experience.
Because who said that the everyday couldn't be exciting?
The Vauxhall Astra GTC comes with a choice of engines designed to provide excellent performance with low corresponding fuel consumption and emissions. Its powertrain petrol engines can deliver up to 180PS, whilst its turbo diesel configuration is capable of 165PS.
Transmission is six speed manual as standard.
Vauxhall Astra GTC Key Features
• Based on the highly acclaimed GTC Paris concept car;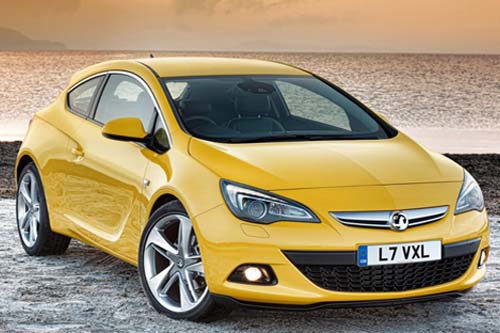 • Concept innovation and high-end passion for everyday driving;
• Dynamic coupé styling for bold, dynamic appearance;
• Advanced chassis technology for superior driving experience;
• Choice of clean and powerful petrol and diesel engines
Power & Performance
All of the possible engine configurations for the Vauxhall Astra GTC meet the Euro 5 emission standards. They each deliver an enviable, desirable combination of high-end performance with impressively low fuel consumption, making for a driving experience that's fun, clean, efficient and exhilarating.

For those who want to make the most of the Vauxhall Astra GTC's sporty potential, the ideal choice would be the 1.6 Turbo ECOTEC with 180PS, though devotees to diesel might prefer the turbo diesel option with 165PS.
Advanced Chassis Technology
The Vauxhall Astra GTC's FlexRide chassis works constantly to adapt its behaviour not only to road conditions as and when they change, but also to your unique driving style.
At the push of a button, you can even switch performance from that of a comfortable cruiser to something more worthy of the GTC's sporting credentials.
Meanwhile, such innovations as Continuous Damping Control (CDC), four channel ABS, traction control and ESP work harmoniously to provide maximum support, stability and safety at all times.
The Vauxhall Astra GTC is a car which simultaneously keeps you safe whilst striving to provide the most enjoyable driving experience possible.
Leasing vs Buying
Nationwide Vehicle Contracts has some fantastic car leasing offers available on the Vauxhall Astra GTC at competitive UK car lease prices. There are many benefits to leasing the Vauxhall Astra GTC, including fixed monthly payments, lower initial deposit, flexible contract duration and mileage terms, as well as inclusive road tax and breakdown recovery.