Why Lease The Vauxhall Insignia VXR?
The Vauxhall Insignia is arguably the most advanced, stylish and prestigious practical car money can buy. However, even the Insignia pales in comparison to the Insignia VXR.
Available in 5-door hatchback, saloon and sports tourer configurations, the Vauxhall Insignia VXR offers nothing but the best when it comes to power, performance, style and sophistication. It may well be the car you always dreamt of driving.
Vauxhall Insignia VXR Key Features
• Stunning performance combined with iconic VXR style;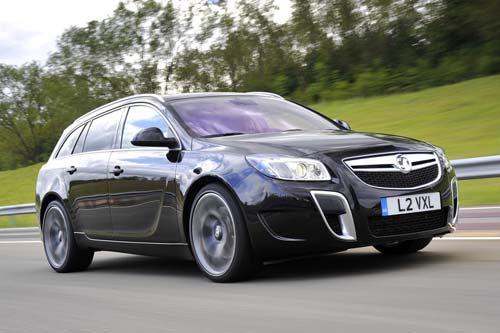 • 2.8i 24v ECOTEC-v6 Turbo engine at 325PS;
• Choice of hatchback, saloon and sports tourer configurations;
• ESP, ABS, EBA, EBD and AFL technology for unwavering control & stability;
• Unique sport-style VXR interior
Power & Performance
The Vauxhall Insignia VXR's formidable 2.8i 24v ECOTEC-v6 Turbo engine is capable of achieving 0-60mph acceleration in as little as 5.6 seconds. Variable valve timing works with the single, twin-scroll turbocharger with intercooler to deliver an astonishing 325PS.
Transmission is a choice between 6-speed manual and 6-speed automatic. The automatic configuration comes complete with paddle-shifts mounted to the steering wheel for smooth, effortless and intuitive sequential gear changes.
Stability & Control
With such power at your fingertips, it's reassuring to know that, should the unexpected happen, various systems within the Vauxhall Insignia VXR work to ensure that you retain stability and control.
These include an Electronic Stability Programme (ESP) which includes traction control; an Anti-Lock Braking System (ABS); Adaptive Forward Lighting (AFL); Electronic Brakeforce Distribution (EBD) and Emergency Brake Assist (ABA).
Essentially, the car responds to your driving style and to the world around it to ensure maximum safety and security not just for you and your passengers, but for other road users.
Leasing vs Buying
There are many benefits to leasing the Vauxhall Insignia VXR, including fixed monthly payments, lower initial deposit, flexible contract duration and mileage terms, as well as inclusive road tax and breakdown recovery. Nationwide Vehicle Contracts has some fantastic car leasing offers available on the Vauxhall Insignia VXR at competitive UK car lease prices.