Why Lease The Volkswagen Golf Cabriolet?
The 3-door Golf Cabriolet's soft-top roof is capable of unfolding in just 9.5 seconds. Soundproofing technology makes for a quiet and comfortable drive with the roof up, whilst the wind deflector ensures protection from noise and turbulence when driving at high speeds with the roof down. As a result, this is truly a convertible which offers the best of both worlds.
Volkswagen Golf Cabriolet Key Features
• A quiet, comfortable ride combined with the exhilaration of open-top driving;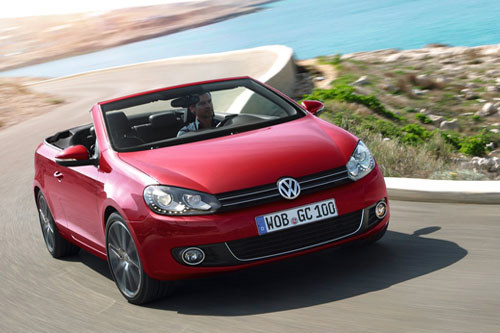 • Electronic soft-top roof unfolds in just 9.5 seconds;
• ESP technology for safety you can depend upon;
• Choice of four models – S; SE; GT & GTI;
• Choice of powerful yet economical TSI and TDI engines


Power & Performance
Depending on the specific model, the Volkswagen Golf Cabriolet can be fitted with a range of advanced TSI and TDI engines.
The selection of petrol-powered engines starts with the 1.2 TSI 105PS with 6-speed manual transmission which comes as standard in the S model. At the top of the scale is the 2.0 TSI 210PS as can be found beneath the bonnet of the GTI model, which comes with a choice of 6 Speed manual and 6 speed automatic DSG transmission.
There are also two diesel-powered TDI engines which range between 105PS and 140PS. Available with the S, SE and GT models, these come fitted with BlueMotion technology. Systems such as automatic start/stop and brake energy recuperation serve to reduce fuel consumption and harmful emissions, making for truly remarkable efficiency.
Safety
The Volkswagen Golf Cabriolet comes fitted with an advanced Electronic Stabilisation Programme (ESP). Working in real time, this system detects potentially hazardous situations before immediately taking action to ensure that you retain control at all times.
Yet thanks to the exceptionally sturdy A-pillars and a phenomenally rigid windscreen, you can depend upon total protection even with the roof down.
Leasing vs Buying
There are many benefits to leasing the Volkswagen Golf Cabriolet, including fixed monthly payments, lower initial deposit, flexible contract duration and mileage terms, as well as inclusive road tax and breakdown recovery. Nationwide Vehicle Contracts has some fantastic car leasing offers available on the Volkswagen Golf Cabriolet at competitive UK car lease prices.