Why Lease The Volkswagen Passat Alltrack?
The 5-door Volkswagen Passat Alltrack is a fantastically versatile car as comfortable on rugged country roads as it is in busy urban environments. The matt chrome underbody and the wheel arch protectors guard from the many harrowing thrills, spills, bumps and grinds of off-road driving; whilst the chrome detailing and alloy wheels ensure that, city or country, the Passat Alltrack will always look as good as it performs.
Volkswagen Passat Alltrack Key Features
• Stylish design with fine-tuned aerodynamics to improve performance and economy;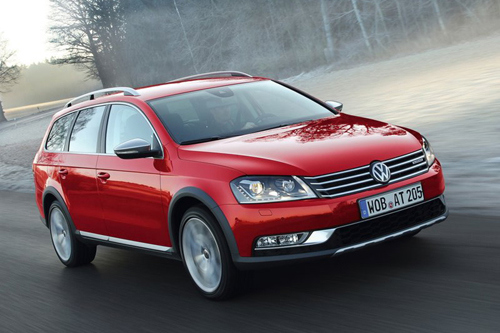 • Underbody and wheel arch protection for safe off-road driving;
• Button-activated intelligent off-road systems;
• Four-link rear suspension for superior handling and stability;
• Choice of two advanced TDI engines
Power & Performance
The Volkswagen Passat Alltrack comes with a choice of two advanced TDI diesel engines, both of which incorporate 4MOTION 4x4 drive and BlueMotion Technology. Containing such systems as automatic start/stop and brake energy recuperation as standard, with no compromises on power, you'll be amazed at how clean, quiet and efficient a diesel engine can be.
Both engines are 2.0 litres and are capable of between 140PS and 170PS. The 2.0 TDI 140PS 4MOTION is available with 6 speed manual transmission, whilst the 2.0TDI 170PS 4MOTION comes with 6 speed auto DSG. Combining the responsiveness of manual with the convenience of automatic, this is truly the option for those who wish for the best of both worlds.
Off-Road Potential
Adaptive chassis control means that, at the touch of a button, you can activate the Volkswagen Passat Alltrack's off-road function. Automatically and electronically, the car will then activate such systems as are designed with tougher terrain in mind.
Whilst off-road, you can rest assured that the matt chrome underbody and the wheel arch protectors will guard all of the vehicle's main systems from potential damage. Meanwhile, four wheel drive, four-link rear suspension and advanced ABS and ESP technology will work to ensure that you retain total control and stability at all times.
Leasing vs Buying
With fixed monthly payments, lower initial deposit, flexible contract duration and mileage terms and inclusive road tax and breakdown recovery, there are many benefits to leasing the Volkswagen Passat Alltrack. Nationwide Vehicle Contracts has some fantastic car leasing offers available on the Volkswagen Passat Alltrack at competitive UK car lease prices.