Why Lease The Volkswagen Phaeton?
The Volkswagen Phaeton is a 5-door Saloon which sets out to achieve the ultimate in luxurious style – and succeeds. With its alloy wheels and bold appearance, it's strikingly beautiful; whilst the choice of powerful TDI engines ensure that it will always perform even better than it looks.
Volkswagen Phaeton Key Features
• The ultimate in style, luxury, comfort, performance and technology;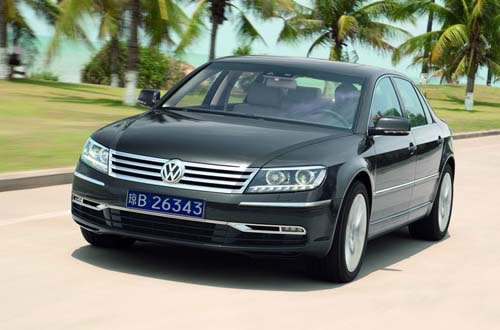 • Electronic CDC air suspension as standard for smoothest ride possible;
• Driver-assistance systems including ESP and tyre pressure monitoring;
• Premium interior includes eucalyptus inlays;
• Choice of two advanced TDI engines
Power & Performance
The Volkswagen Phaeton is available in two different models – the V6 and the V6 LWB – each of which comes fully-loaded with the high-performance 3.0 V6 TDI 240PS. As a result, the Phaeton is capable of achieving 0-62mph in just 8.3 seconds, with a top speed of 147mph.
Transmission is 6 speed auto triptronic. With this in place, you can switch from convenient automatic to responsive manual at will, thus enjoying the best of both worlds.
All the while, the Phaeton's electronically controlled CDC air suspension will adapt automatically to road conditions in real time. You can therefore enjoy the smoothest possible ride at all times.
Luxury Through Technology
With such driver-assistance systems in place as an Electronic Stability Programme (ESP), a tyre pressure monitoring system, parking sensors and Automatic Distance Control (ADC), you can place many of the car's important functions in the hands of expert technology; leaving you free to focus upon the sheer pleasure of driving.
And with four zone climate control, 12-way electronically adjustable seats and the RNS 810 touch-screen system, you can enjoy every journey in the unrivalled height of comfort and luxury.
Leasing vs Buying
Nationwide Vehicle Contracts has some fantastic car leasing offers available on the Volkswagen Phaeton at competitive UK car lease prices. There are many benefits to leasing the Volkswagen Phaeton. These include fixed monthly payments, a lower initial deposit, flexible contract duration and mileage terms and inclusive road tax and breakdown recovery.