Why Lease The Volkswagen Scirocco?
A legend of motoring has returned. The Scirocco is quite probably Volkswagen's most technologically advanced production coupé ever. With 3-doors, athletic dynamism and striking design features, this is truly a car for those who wish to stand out.
Volkswagen Scirocco Key Features
• Volkswagen's most technologically advanced production coupé ever built;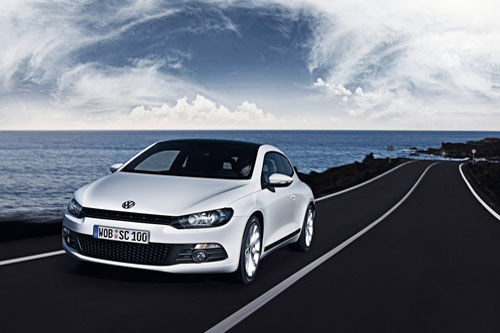 • Adjustable sports seats;
• RNS 510 radio navigation system;
• ABS, ESP and Power-Assisted Steering for total control and stability;
• Choice of powerful yet efficient TSI and TDI engines
Power & Performance
The engines available with the Volkswagen Scirocco vary depending on the specific model chosen. There's an extensive selection of both petrol and diesel, with multiple options on transmission, too.
The petrol selection ranges from the impressive 1.4 TSI 122 PS as available with the standard Scirocco, to the high-end 2.0 TSI 265PS as available in the powerful Scirocco R.
Meanwhile, there's a choice of two diesel engines. Available in the GT and R-Line models, the 2.0 TDI 170PS will please those who favour speed and acceleration, whilst the BlueMotion Technology 2.0 TDI 140PS is ideal for those who are more interested in capping their fuel consumption and emissions.
Transmission is 6-speed manual as standard, though there's also a high-tech auto Direct Shift Gearbox option. Available in 6 or 7 speed configurations, DSG offers the best of both worlds through combining the responsiveness of manual with the convenience of automatic.
Safety, Stability & Control
Much of the technological excellence found in the Volkswagen Scirocco has been put in place to ensure that, even should you face potentially critical situations, the car will respond automatically to help you to maintain control.
The Electronic Stabilisation Programme (ESP) detects potential hazards at an early stage and alters the car's systems accordingly. In addition, the Anti-Lock Braking System (ABS) prevents collisions through working intuitively to prevent wheel locking.
Even on the inside there are systems to help ensure your safety and control. For example, the rear view mirror dims automatically to reduce the dazzling glare of headlight reflections.
Leasing vs Buying
With fixed monthly payments, lower initial deposit, flexible contract duration and mileage terms and inclusive road tax and breakdown recovery, there are many benefits to leasing the Volkswagen Scirocco. Nationwide Vehicle Contracts has some fantastic car leasing offers available on the Volkswagen Scirocco at competitive UK car lease prices.