5 New Toyota Concept Vehicles to be unveiled at Tokyo Motor Show

THE FUTURE OF MOBILITY?
According to Toyota, their display at the Tokyo Motor Show from 20 November that features the debuts of five concept cars could well be.
It's always interesting to see what car manufacturers think that we will be driving in not only the near future, but also the days of the Jetsons and beyond. And for Toyota, there is no better place to see their visions than on home turf at the Tokyo Motor Show.
Because amongst concepts that look into the future for taxis, compact MPVs, and an FV2 (Fun Vehicle 2), we will find their latest delve into the world of the Fuel Cell Vehicle (FCV) arena as Toyota try to "make a positive contribution to society by designing and building ever-better cars that go beyond what people expect from a vehicle."
And all of this under the banner 'Fun to Drive Again.'
The Toyota FCV Concept
It's world debut time for a car that Toyota have pumped a lot of thought, money and faith into prior to the proposed launch in (possibly) 2015 as "a pioneer in the development of hydrogen-powered vehicles."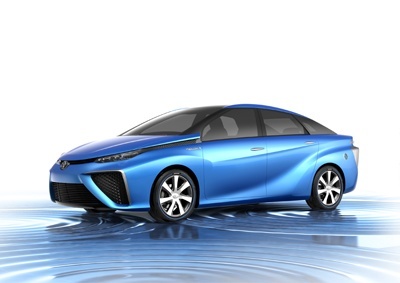 Hydrogen fuel cell technology is something that Toyota have great faith in, and the progressive refinement that their technological experts have made are evident from the start as the car can achieve a range of at least 300 miles on a full tank with a (get this!) refuelling time of around three minutes; that's the same as for a car that runs on diesel and petrol at a fraction of the cost.
For those of you unfamiliar with the whole of the fuel cell technology, the FCV concept shows it off in all its glory; the front end features pronounced air intakes, which is then transformed into water as the system produces electricity; which then flows through the electric drive motor – an acceleration is go! (All of this is captured in the designs on the car itself so that we are left in no doubt that this is an FCV.)
The powertrain is compacted, containing both the lightweight fuel cell stack and a pair of high-pressure hydrogen tanks underneath the car's body, allowing space inside for 4 passengers. The Toyota FC stack has a 3kW/l power output density, more than twice that of previous models and concepts, allowing a maximum power output of at least 100kW – which has allowed Toyota to decrease the car size and reduce the number of fuel cells. This means that the car is more compact than before and therefore more efficient, especially for use in the city.
The Toyota FV2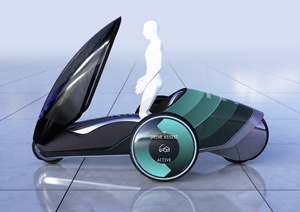 Now here's the concept car (if you can call it that) that Toyota have hung their 'Fun to Drive Again' hat on. According to all the blurb that comes with it, the idea is to "form stronger physical and emotional connections with the driver."
Physically, that's going to be easy; because it is a very physical car that doesn't even have a steering wheel – it's up to the driver's movements in shifting their body to move the vehicle forwards or back, left or right. (Sounds to me like a rollercoaster ride – quite literally!) And there's also a physicality between the vehicle itself and other vehicles as it uses intelligent transport system technology to allow it to communicate with those other cars as well as with information (to hopefully soon be) available in the highway infrastructure so that safety is maintained and warnings are given as to potential problems.
Emotionally it's all down to trust and understanding between a driver and their car. (Bear with me; it took me a little while to get a grip on this idea!) Seemingly at Toyota, they have something called the Toyota Heart Project, a communication research project on the theme of Inspiring the Heart, Inspiring Yo, which looks at technology that could be created to improve communication between human and artificial intelligence using humanoid robots called Kirobo and Mirata. Using the research findings from the project they are hoping to "develop artificial intelligence that grows together with people, and which can display feelings and evoke fondness and trust."
It's all a bit Jetsons at first glance, but the fact that Toyota are even trying to find a link is a step forward, and with the FV2 using voice and image recognition to determine a driver's mood, previous driving history to suggest destinations and offering up driving skills information, it's an interesting idea.
Toyota have even created a smartphone app so you can see what it would be like driving an FV2!
The JPN Taxi Concept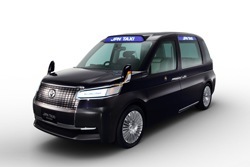 Is there anything more customer-focused than Japanese-style hospitality? The answer is no; and the JPN Taxi Concept takes that hospitality, combines it with large, electric doors, 5 seats and a low, flat floor to make sure that it is maintained.
The concept has been designed in line with Japanese government guidelines for accessible buses and taxis that meet regional needs, and is powered by an LPG hybrid system (and therefore environmentally credible) that has been specially created..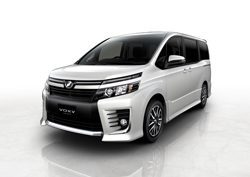 The Voxy and Noah concepts
These two new MPV models, both with seven seats, are being shown off too, prior to making an appearance as full models on the Japanese market in early 2014.No doubt we will hear more about these at a later date.
With the Tokyo Motor Show essentially a home fixture for the Japanese car giant, they will be expecting a warm reception from all concerned. I don't think they will be disappointed.