ADAM Gets Siri-Us!

VAUXHALL ADAM FIRST IN CLASS WITH TALKING CAR
It seems that those days of a nice quiet drive with only the hum of traffic and possibly the hum of a hazy summer's day interrupting your thoughts are over.
Vauxhall have announced that their dream boat car ADAM will soon be becoming "the first car in its class that drivers can hold a conversation with, allowing them to give voice commands and receive a verbal response from the car itself."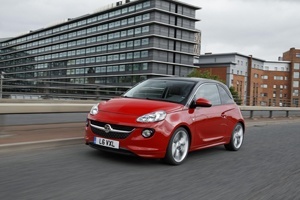 Short of us all having to dress like David Hasselhoff Knight-Rider style, what it actually means is that the driver will be able to link their compatible iPhone to the innovative IntelliLink infotainment system(that can be part of the ADAM package) and connect to Apple's Siri Eyes Free. This is the package offered by Apple on iPhones that is "the unique intelligent assistant from Apple that helps you get things done whilst driving just by asking."
What it allows a driver to do, via a steering wheel-mounted button, is get Siri to perform certain tasks whilst driving and not letting their eyes leave the road. We are talking answering texts and sending them, getting directions, playing music and Googling facts amongst other things  (more below)and it is said to be like having someone in the seat next to you taking notice of everything you say and doing it without question – and how often is THAT going to happen?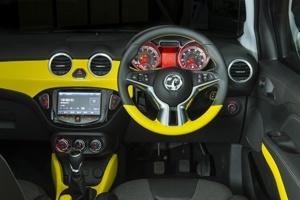 It works purely via voice control and doesn't display things like texts in case the driver gets distracted and wants to read them (because they are human!) It reads them out – which itself should be fun as it interprets the words as it sees them – so that all the driver has to do is listen and then answer and let Siri spell those words too! As if spelling on texts isn't bad enough!
Vauxhall have announced that Siri is available free of charge in all IntelliLink-equipped ADAMs  ordered from today (Weds) and existing customers can get a free IntellilLink and Siri Eyes Free update available from next month, with the IntelliLink system being continually updated to ensure in-car infotainment is just as up to date as their mobile communication.
It seems to be easy to install, activate and use, even for technophobes. All the ADAM owner has to do is connect the Apple iOS device with the IntelliLink infotainment system by using Bluetooth, pair with the system, and use the steering wheel voice activation button to activate and use it.
So what can the Siri Eyes Free do for the driver apart from muting music and Sat Nav directions whilst you are talking (Does that mean you may get lost?)
According to Vauxhall it will allow drivers to;  In the Vauxhall ADAM equipped with the IntelliLink infotainment system, owners can use Siri Eyes Free to: Make voice-activated, hands-free calls to Contacts on their iPhone; Play chosen songs in their iTunes libraries without having to spend time scrolling through menus; Listen to, or compose and send an iMessage, text message or mail to a phone number or anyone saved in the Contacts Folder; Access Calendar and add appointments, read incoming notifications as well as configuration for alarm and notification settings; and also answer those simple questions that Siri can actual answer instead of ones that people always try like "Is there a God?". "What are this week's National Lottery Numbers?" and "Where is my daughter going until 3am in the morning?"
The new IntelliLink infotainment system from Vauxhall is compatible with iPhone, iPad and iPod touch, as well as Android devices and includes; TuneIn, a global radio access app; BringGo, a navigation app; and Stitcher, a global podcast internet radio app.
Probably best though hot to connect it when there actually is someone sat in the seat next to you.
A text message read out asking if you've told your partner about the weekend away with your mates that you were going to pass off as a business trip won't be too welcoming – and nor will an argument being settled by a notoriously unreliable Siri with no loyalty to you at all!