All-New Jaguar F-Type R Coupe Gets Star Treatment in California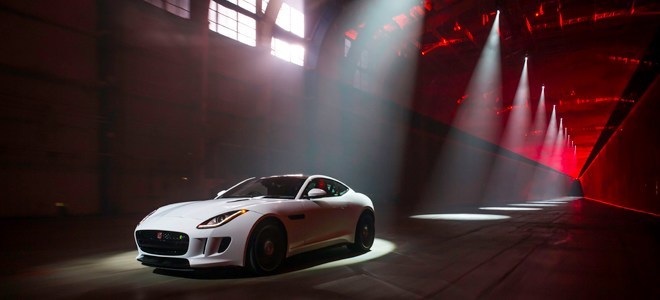 If the adage "It's not what you know, it's who you know" holds true, then the all-new Jaguar F-TYPE Coupé range is certainly something to be looked at when you consider just who was there at the dynamic debut of its flagship model, the high-performance 550PS F-TYPE R Coupé, at an exclusive VIP media and consumer event on the eve of the Los Angeles Auto Show.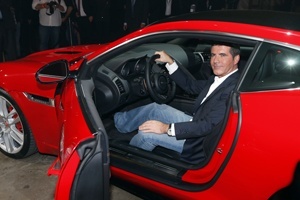 Remembering that it is in America, and some of these stellar names may only be Yahoo OMG figures in our tiny island world, the event attracted a top entertainment and auto enthusiast crowd that included Mr Simon Cowell, model Miranda Kerr, English actor Nicholas Hoult, American actor Joe Manganiello, Kelly Osbourne, British model David Gandy, event organiser Yasmin Mills, Jodie Kidd, singer-songwriter Andra Day and, host of American TV show CarCast (think Top Gear in the USA), Adam Carolla.
And they were delighted with the new three-model F-TYPE Coupé range led by the F-TYPE R Coupé with its 550PS 5.0-litre supercharged V8 engine that accelerates from 0-60 mph in 4.0-seconds, and achieves a (limited) top speed of 186 mph.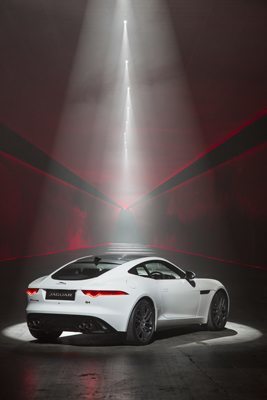 The event took place at the Raleigh Studios in Playa Vista in California where the first chance the crowd go to see the car was as a blur when it accelerated towards them before passing under their grandstand at full throttle.
Jaguar's Director of Design, Ian Callum, led the celebrations: "Creating a sports coupé is the purest of design tasks and also the most challenging; get it right and aesthetically the result will be as dynamic as the car should be rewarding to drive. In F-TYPE Coupé, I believe we've got it right."
Besides the all-aluminium Jaguar F-TYPE R Coupé, the assembled stars also got to see F-TYPE S Coupé and F-TYPE Coupé models which complete the range, both of whom feature versions of Jaguar's 3.0-litre supercharged V6 engine, giving 0-60mph in 4.8/5.1-seconds and top speeds of 171/161mph.
The F-TYPE Coupé range complements the award-winning F-TYPE Convertible model line-up of F-TYPE, F-TYPE S and F-TYPE V8 S - which you may remember holds the title of 2013 'World Car Design of the Year' – and is claimed to be "the most dynamically capable, performance-focused, production Jaguar ever."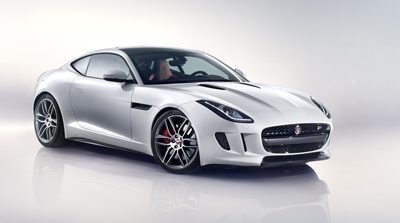 "With F-TYPE Coupé, the Jaguar engineering team has exceeded our considerable target of building a car that delivers even more driver reward than the acclaimed F-TYPE Convertible. Engineering an exceptionally rigid all-aluminium Coupé body structure was the key to achieving this, as it's the fundamental basis for enhanced dynamic attributes. The result is that the F-TYPE Coupé is the most dynamically capable and involving Jaguar we've ever built.": Ian Hoban, Vehicle Line Director, Jaguar
We've already mentioned the 550PS/680Nm 5.0-litre V8 supercharged engine, but there is so much more to the car, like Jaguar's second-generation Electronic Active Differential which can make the car more agile and easier to handle by working with a new Torque Vectoring braking system.
The braking system of the whole car itself is a Carbon Ceramic Matrix (CCM) braking system which features 398/380mm discs front/rear , and all engines use an eight-speed 'Quickshift' transmission that is controlled manually via the steering wheel-mounted paddles or the central SportShift lever.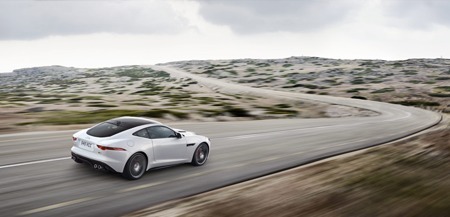 As mentioned before, the car is all-aluminium, which builds on Jaguar's already world-renowned and industry-leading expertise in that particular material, and delivers torsional rigidity of 33,000 Nm/degree – the most torsionally rigid production Jaguar that they have ever produced. This, of course, means that safety is a priority and delivered in spades!
When it comes to design, the F-TYPE Coupé delivers too, taking its lead from the award-winning C-X16 concept; and it may be a sports car in all but name, but it also has 407 litres of boot space that also features a power assisted opening tailgate. (By the way; 407 litres is plenty of space for TWO sets of golf clubs!)
"The F-TYPE Coupé provides its driver with a unique sports car experience. It combines seductive design with cutting-edge technology and performance which is truly breathtaking. Engaging, precise, intuitive and alive – it is the definitive sports Coupé." Phil Popham, Group Marketing Director, Jaguar Land Rover.
The only bad news is that you can't get hold of one until late in 2014.