Asleep in the Car – But NOT when At The Wheel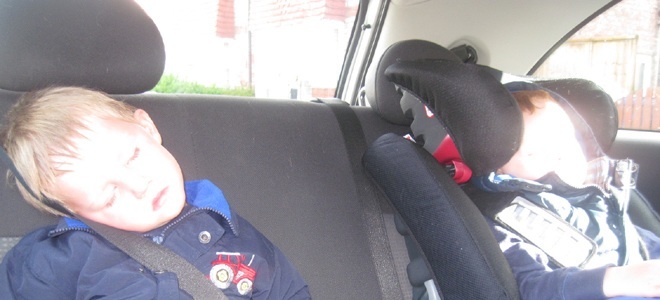 A poll commissioned by insurance company LV= has revealed that in the last year, more than three million British drivers have fallen asleep behind the wheel – for seconds, milliseconds or even longer. And that 3.4 million is around 10% of the UK's 38 million motorists.
We all know that it is dangerous, and potentially fatal, but did you know that this action (or non-action) is, according to official police figures, responsible for, or at the very least has contributed to, at least 3,357 accidents recorded over the past five years.
Amongst the causes for these fatigue-related incidents, according to the research report, are long and monotonous road driving, a lack of sleep, driving long distances to a holiday destination or driving after a late work shift – and the problem is more widespread than imagined.
19% of those surveyed admitted that there had been times when they had hardly been able to keep their eyes open while driving and 28% confessed to 'drowsy driving' – with 33% of men more likely to do it than women (12%).
If you take into consideration that it is estimated that, whilst dozing, drivers drive an average distance of 26 metres (85 feet) at an average speed of 50mph, this means that there has been, over the past 12 months, more than 55,000 miles driven in the past 12 months by a driver not in control of the car – or their eyelids!.
John O'Roarke, managing director of LV= car insurance, said: "Falling asleep while driving, even momentarily, is extremely dangerous but taking regular breaks from driving can help prevent it. If you know you are going to be driving long distance, plan ahead and make sure you have sufficient time to rest."
But this is not a new problem. Way back in 2005, in the USA, a company called the National Sleep Foundation released the results of a poll where 60% of adult drivers in the USA – about 168 million people – said that at some stage in the previous year, they had driven a vehicle whilst drowsy in the past year, and more than one-third, (37% or 103 million people), had actually fallen asleep at the wheel! In fact, amongst those who admitted it, 13% said that they had done it at least once a month with 4% admitting to an accident because of the effects of driving tired.
But it should be pointed out that although there is no actual test to determine sleepiness as there is for intoxication, there is also little or no police training in identifying drowsiness as a crash factor.
Most victims of sleep related crashes are young people(with men, adults with children and shift workers coming up very closely [but not too closely] on the rails), 72% of whom (aged between 18 and 29) are likely to drive with sleep deprivation that MAY have been self-inflicted.
A good time here to remind you that alcohol doesn't allow the brain to rest as much you think it does once your head hits the pillow. And to tell you that in a 2002 study by the AAA Foundation for Traffic Safety, people who sleep six to seven hours a night are twice as likely to be involved in such a crash as those sleeping 8 hours or more, while people sleeping less than 5 hours increased their risk four to five times.
Although that USA report is over 10 years old, the problem today is as bad today as it has always been; take into consideration the story of the injury of a pedestrian involving White Van Man, Joseph Grimes, who had just worked his first ever night shift and was on his way home at 6.30am when he nodded off, mounted the kerb and hit dad Kevin Maguire causing life-changing brain injuries to Mr Maguire.
Grimes admitted to witnesses that he had 'nodded off' and caused dreadful injuries to Mr Maguire, who is still suffering today, and resulted in Grimes getting a 5 months jail sentence for dangerous driving.
In sentencing him, Judge Graham Morrow said to Joseph Grimes: "The consequences of your dangerous driving were very serious and could have been fatal. This tragic accident is a terrible reminder of what can happen when a driver falls asleep at the wheel. Falling asleep at the wheel does not happen without warning. There must be feelings of tiredness which should be a warning to the driver to stop even when, as in this case, the driver is not far from home."