Aston Martin V12 Vantage S - The Fastest Vantage Ever!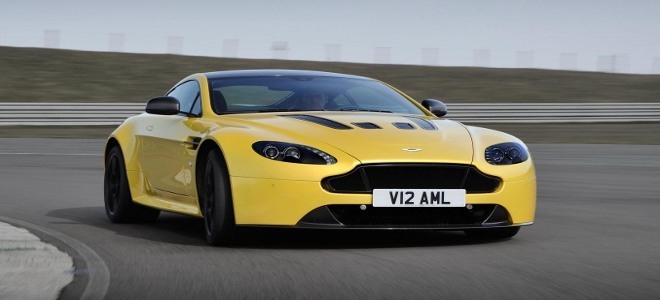 The Aston Martin V12 Vantage S is the fastest Vatage yet
The Aston Martin Vantage has always been the brand's most extreme high-performance sports car, so that the latest generation claims to be the brand's fastest accelerating production car to date is truly news to raise the eyebrows and the pulse.
So just how fast is it? Thanks to the new 573PS AM28 6.0-litre V12 engine, the Aston Martin V12 Vantage S has a top speed of 205mph and is capable of accelerating from 0-60mph in just 3.7 seconds. It takes most people longer to sneeze.
Says Aston Martin CEO Dr. Ulrich Bez: "The new V12 Vantage S brings our winning GT3 race formula to the road.
"It's a car for those customers who want superior sporting performance in a 'gentleman's suit'. It's the most pure, yet understated, driving machine we can imagine today."
Racetrack Technology
Of course, a car as volatile as the Aston Martin V12 Vantage S will always require some serious technological innovation to ensure that the driver feels comfortable with such potent power at their fingertips.
The Aston Martin V12 Vantage S put in many hours lapping Germany's Nürburgring to hone its dynamic capabilities, resulting in an optimised motorsport-derived paddle shift gearbox and such track-inspired components as hollow cam shafts and CNC machined combustion chambers. This is racetrack technology recast for everyday driving.
Says Product Development Director Ian Minards: "Harnessing the sheer, raw, power of the AM28 engine – ensuring it is delivered in the most coherent, engaging way – has been a challenge for the Engineering team, but this record acceleration figure ably demonstrates that it is one we have more than met.
"With great motorsport successes already under our belt such as the WEC win at Silverstone and our superb showing at the recent Nürburgring 24 Hour race, plus the excitement of Le Mans just around the corner, it seems fitting that our most extreme road-going Vantage yet claims this acceleration record now."
Driving The Aston Martin V12 Vantage S
The technological innovation extends to the driving experience, with systems in place that allow for the driver to accurately tune the car's ride and handling, ensuring that you'll always feel in control of this formidable beast.
Thanks to three-stage adaptive damping, you can precisely tailor the dynamic character of the Aston Martin V12 Vantage S. A choice of three driving modes – Normal, Sport and Track – provide a broad range of dynamic capability, with the power assisted steering adapting automatically as required to ensure total control and stability.
The Aston Martin V12 Vantage S is available now from £138,000. So if you want one, you may have to sell your house. Or, you could try leasing an Aston Martin Vantage?