Batman Boyo Picks Up A Juke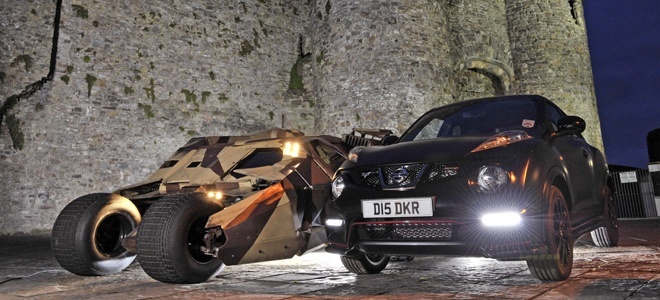 WELSH BAKER KNOWS HOW IT ROLLS
Residents of Carmarthen were forced into a double-take as Batman's famous Tumbler drove up their High Street with a Dark Knight Rises™ Nissan Juke Nismo close behind, allowing west Wales to feature some big screen drama in front of Carmarthen Castle; and it was there that competition winner Adam Williams was presented with his special one-off Juke.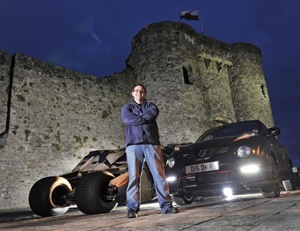 Local baker Mr Williams had taken Nissan's Thrill Test on Built to Thrill website, and to say the least he was a bit pleased. "I can't believe I've won this fantastic car – it was the biggest surprise of my life and I was so excited to take delivery of it. I'll certainly turn a few heads driving around Carmarthen – it's great to think I'm the only person in the world with my very own version of the Batmobile!"
The Dark Knight Rises™ Juke Nismo was created to celebrate Nissan's partnership with Warner Bros and the release of the third film in Christopher Nolan's Batman trilogy on DVD and Blu-Ray, and it's not just a Juke that has been cosmetic'd up! Inside there are a whole host of Batman-inspired details so that any driver (or passenger) can not only be the envy of every movie fan and car buff but also a star in their own minds.
Inside you'll find the same 200PS 1.6-litre turbocharged engine with a six-speed manual gearbox as the new Juke that gives a 0-62mph time of 7.8 seconds, and the expected Nismo bodykit, uprated suspension and enhanced interior. But then, it's down the batpole for Adam Williams as Bruce Wayne – and Batman emerges.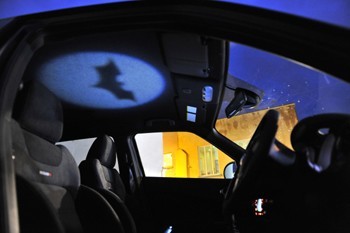 The menacing matt black paint, the shark fin antenna instead of the standard car's conventional aerial, the aluminium Bat badges on the front grille and tailgate, the unique gloss black 18-inch alloy wheels with bespoke red detailing, pinstripe on the bumpers and sills, Bat logos on the kickplates, reflective Bat badges on the headrests; could it get any more Bat than that?
Yes it can! With downlighters mounted under the door mirrors, you can project the Bat signal onto the floor area around the doors with a clever uplighter projecting the same signal onto the black headlining inside too.
Obviously there is a point behind all of this. It's all to promote the Nissan Juke Nismo – and obviously their marketing plan is working.
Since going on sale in January 2013, the Juke Nismo – Nissan's first Nismo model for Europe – has outstripped expectations. "We're not even halfway through the year and we're already well ahead of our target, having sold nearly 600 cars," said Juke product manager, Jon Davies. "That's a fantastic achievement and proof that buyers love the Juke Nismo's combination of accessible performance, stylish looks and generous equipment."