Beetle Spotting Reveals a Legendary Sighting.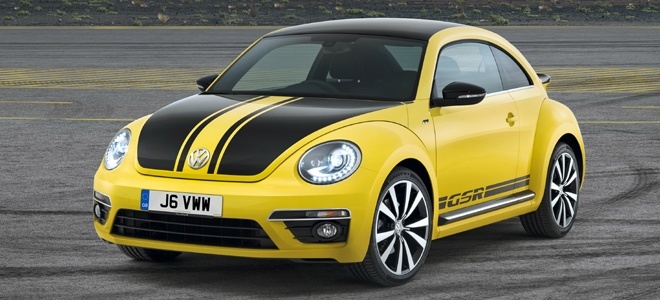 LIMITED EDITION VOLKSWAGEN BEETLE GSR NOW AVAILABLE
For us fogies, and for all trend-setters and style icons everywhere, the VW Beetle is one of THE cars to drive, own, look at, buy….and now, for the first time ever, Volkswagen Beetle fans in the UK can order the legendary GSR model, ONLY 40 years after the original Beetle GSR made its debut in the European market.
Thanks VW! I'd like to say that the wait made the anticipation delicious, but I'd be lying.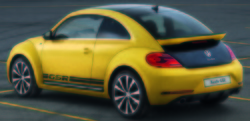 OK; so it is not the original, rather a re-interpretation of it that was unveiled in early 2013 at the Chicago Motor Show with a powerful 210 PS turbocharged engine – an improvement on an original that is hard to improve upon. Only 3,500 of the original 'Yellow-Black Racer' GSR ('Gelb-Schwarze Renner' which is German for 'Gold-Black Racer') Beetle 1303 S were available 40 years ago – and VW have unfortunately kept to that bit of the history too, with only 100 available right here in the UK.
The 1970's GSR has been re-looked at for the modern era, although the basics are pretty much the same.
It's yellow with the bonnet and the boot lid painted in matt black, as they were back in 1973, but this time the roof and exterior mirror trims are too. The bumpers are now yellow instead of black and now there are Black/yellow stripes with 'GSR' lettering creating a silhouette above the side sills. The back spoiler is both yellow and black and larger than normal, thus completing the 2013 look of the new Beetle GSR; that – and don't get all angry about this can also be ordered in Platinum Grey and Black. I know! I know!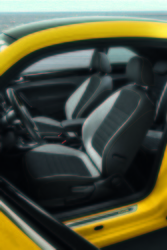 Back in 1973, just as Sunderland were beating Leeds in the FA Cup Final (watch out City! It could happen again!) the GSR came with 15-inch steel wheels with 175 size tyres; but the new version goes that bit further with 19-inch 'Tornado' alloy wheels with 235/40 tyres.
These days, drivers demand so much more than they did back in 1973, so the interior of the Beetle where a careful owner may have lain back in their sports seats with leather sports steering wheel and listened to Red Rum reeling in Crisp in the Grand National, has been updated to R-Line racing seats (with fabric covers and contrasting yellow stitching), a high-grip leather sports steering wheel (also with contrasting yellow stitching), a badge with the car's special-edition number (1 to 3,500), an R-Line dash pad, GSR gear stick, leather handbrake lever gaiter and black floor mats with contrasting yellow embroidery.
Forty years ago, it didn't take much for the yellow/black Beetle to turn the world of compact cars on its head – just 50 PS – although the 0-62mph was a lot slower then than it is now – very much in the date to kiss acceleration that I reached with Gemma Gibson in the back row of the Odeon Elephant & Castle during "Battle For The Planet of the Apes" (which we had to sit through again so that we knew the story in case anyone asked us questions about it. We were 13 years old! Come on!). These days, in both car acceleration and love conquest it seems to be much quicker. The GSR uses its 2.0-litre turbocharged 210 PS engine to accelerate from standing to 62mph in just 7.3 seconds, has a top speed of 142 mph, 280 Nm of torque from 1,700 rpm to 5,200 rpm, and has a targeted combined fuel economy of 38.7 mpg with CO2 emissions of 169 g/km.
The new Beetle GSR can be ordered with either a six-speed manual or DSG gearbox and, as I said before, there are only 100 available in the UK. So I suggest that when you read the next sentence you get on the phone.
The car is available to order now with first deliveries expected in September.
(Failing with this (as I didn't when older with Gemma Gibson – but that's another story) you could get your hands on a faster Beetle: all 2.0-litre TSI models factory ordered from 1 May come with the upgraded engine, offering 210 PS, rather than the previous model's 200 PS.)