New Citroen C3 To Debut At Geneva

WORLD DEBUT AT GENEVA MOTOR SHOW
The Citroën C3 has sold almost 3 million of its family since it launched in 2002, and at the Geneva Motor Show Citroën will be presenting a new C3 with fresh features to brighten up and heighten the appeal of this popular car.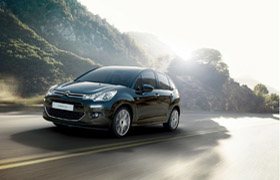 The latest Citroën C3, set for launch in early summer 2013 in the UK, has all the attraction of the existing model with added bonuses like:
'Créative Technologie' such as the panoramic Zenith windscreen which provides best-in-class visibility

More efficient engines with the option of the brand's new PureTech 3-cylinder petrol powerplants that can to deliver CO2 emissions as low as 87g/km, up to 15% more power and a 25% reduction in fuel consumption when taken in comparison to the 4-cylinder units that they are replacing.

More personality (whatever that means when it comes to cars) with 'assertive styling', a revitalised front end and new tail lights.

And even more comfort for the occupants thanks to enhanced upholstery choices and new equipment including a reversing camera to make manoeuvres easier
UNIQUE PERSONALITY WITH NEW STYLING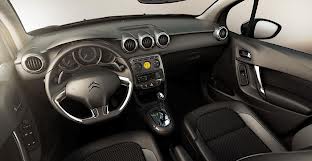 Aah! Maybe this will help us explain the personality side of the car.
The new Citroën C3 looks nicer with its soft curves combined with dynamic taut lines and the restyled front end helps to create what Citroën call a new 'face' with its updated chevrons and LED daytime running lights mounted onto the bumpers. Add in new tail light clusters (that are 'expressive') and new reflectors underneath the rear bumper and you now understand all about the personality of the car.
The car is pretty compact too, perfectly proportioned for city driving, and there is a new colour available called Ink blue, that brings the total of colours available to nine.
COMPACT YET SPACIOUS
Inside the car, the cabin has been crafted using top-quality materials everywhere, including the dashboard, which can be co-ordinated with the aforementioned enhanced upholstery, and the instrument cluster is also backlit in white to make it look contemporary look and to make it easier to read. There is even an integrated air freshener built into the car.
There's a large boot of 300 litres as well as a stackload of extra storage compartments that includes spaces in the central console, glove box and central armrest.
ALL-NEW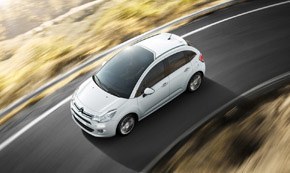 The unique Zenith windscreen - a standout feature of the Citroën C3 - is a true technological feat. It increases the upward field of vision for front passengers by 80° and gives a panoramic view of the road ahead – which obviously helps to make the car safer to drive. It is also safer for the driver with solar protection built into the top of the glass which gradually merges into clear to make sure that the field of vision is at optimum level.
Also new to the C3 is the reversing camera and parking sensors, an RD4 MP3 audio system, Connecting Box (Bluetooth® hands-free kit, jack plug and USB socket), eMyWay navigation and a powerful HiFi System®.
IMPRESSIVE & EFFICIENT PERFORMANCE
Those engines that we mentioned at the start of the article (the new-generation PureTech 3-cylinder petrol engines) are available with a 1.0 or 1.2-litre capacity. Around 52 patents were filed in order to develop these new engines ion an effort to make them smaller and lighter, optimise combustion and reduce friction; all with the end result that these engines improve fuel and CO2 efficiency by around 25%.
The VTi 68 and VTi 82 PureTech engines achieve low fuel consumption, between an impressive 62.8 and 65.7mpg, and CO2 emissions between 99 and 104g/km, and there is also a VTi 120 engine also available with a manual or automatic gearbox.
If petrol isn't your bag, and you are a slave to diesel, in the UK, the new Citroën C3 will be available with four diesel engines - HDi 70, e-HDi 70, HDi 90 and e-HDi 115, all available with the Citroën's micro-hybrid e-HDi technology which includes "the most efficient Stop & Start system on the market with some of the best fuel efficiency and lowest CO2 emissions in the class - from as low as 87 g/km."
That's the new Citroën C3. Fancy it?