Double Victory For Porsche 911 RSR At Le Mans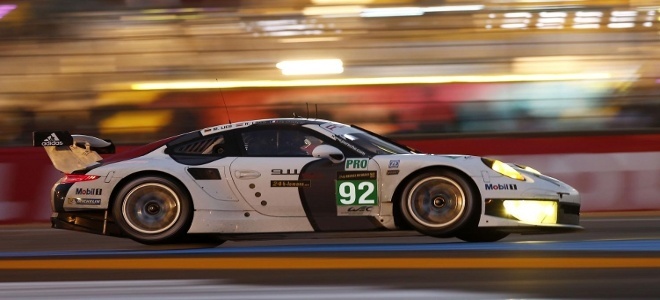 Porsche Achieve 100th Class Victory At Le Mans
The new Porsche 911 RSR won the gruelling GTE-Pro class at the 2013 Le Mans 24 Hours, beating fierce competition from Aston Martin, Ferrari, Chevrolet and Viper.
This result marked the 100th class victory for Porsche at Le Mans. As it also marked the 50th anniversary year of the Porsche 911, spirits were understandably high – if tempered by the tragic and untimely death of Allan Simonsen.
Says Dr. Wolfgang Porsche: "With the 99th and 100th class win and the double victory of the new 911 RSR, this Le Mans 24 hour race was a magnificent success for Porsche.
"I very much congratulate all those who have contributed. Our joy, however, is also mixed with sadness and shock at the death of Allan Simonsen. We have not only lost a passionate racer, but also a good friend of the Porsche motorsport family.
"He contested his first Le Mans 24 Hours in 2007 with a Porsche. With our works driver Marc Lieb in 2005, he contested two races of the Le Mans Endurance Series in a Porsche as well.
"Our deepest sympathy goes out to his family as well as the Aston Martin squad and his teammates at this difficult time."
The 2013 Le Mans 24 Hours was the 81st running of this legendary endurance test and marked 90 years since the very first event. A sombre atmosphere hung over the event after Allan Simonsen's fatal crash, a horrifying event that was compounded by a Danish flag at half-mast and constant showers throughout the race.
Nonetheless, there was some serious racing to be done.
Says Porsche's Matthias Müller: "Those were very gripping 24 hours and a race with action we've all certainly experienced rarely.
"It was exciting from the first to the last minute. In the end luck was on our side. Aston Martin was a tremendous opponent.
"At this time our thoughts should be with the fatally injured Allan Simonsen. For motorsport and for Aston Martin it is a great tragedy. Nevertheless, Porsche has once again shown that it is the manufacturer to beat in GT racing. This makes us optimistic for 2014."