Electric Land Speed Record Broken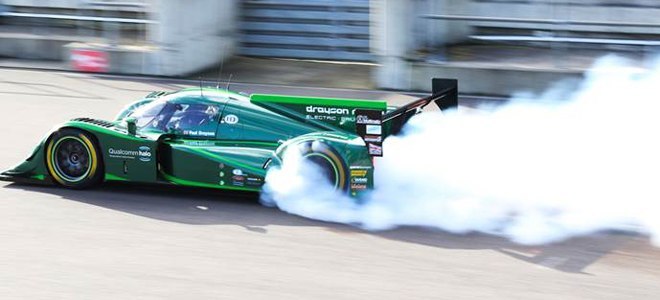 You may remember this article back at the start of June where we reported that an attempt on the electric land speed record was being made on June 25.
It was made AND IT SUCCEEDED!
Drayson Racing's 'hypercar,' designed and built by a British company reached a top speed of 204.2mph on the 1.86-mile runway at RAF Elvington, Yorkshire, beating the previous record by an astonishing 40mph.
Lord Drayson was the man behind not only the whole attempt, but also the wheel, and the entrepreneur and former UK science minister said to Sky News, as he climbed out of the cockpit: "This is the future."
I don't think that he meant commercially (otherwise motorways would be even more dangerous than they can be now) but earlier, before his magnificent achievement, he had expanded on his ambitions.
"It's not the outright speed that's impressive about this record attempt but the engineering challenge of accelerating a 1,000kg electric vehicle to such a high speed and sustaining that speed over a measured mile before stopping safely, all within a relatively short distance, then turning round and doing it again within an hour.
"It's a tremendous technical challenge but we believe it's about time someone moved this record on to demonstrate just how far electric vehicle (EV) technology has come."
The previous electric land speed record had been set way back in the annals of time (actually in 1974) when Battery Box General Electric raced on the Bonneville Salt Flats in Utah, and to beat this record the stipulations for speed records stated that the Drayson B12 69/EV had to do two runs within an hour and over the two runs achieve an average of over 175mph.
Having based the car on the Lola LMP1 which competes at 24-hour Le Mans race, Drayson racing were confident of success, even after they had taken out the powerful V10 Judd engines and replaced them with 2 two huge A123 battery units that were connected to electric motors. To counteract the weight of these batteries, the chassis is made of carbon and, without the driver in it, it manages to weigh just 1,095kg.
When it came to the attempt, the teams' telemetry equipment clocked Lord Drayson at over 200mph, but elation was short-lived as the official equipment had malfunctioned and he had to run again.
But not to worry; he managed 203.75mph on his re-run before the final push saw a speed of 205mph with the wind behind him.
So, congratulations to Lord Drayson and his team on such a fine achievement and British success that was watched by co-founder of Google, Eric Schmidt who said: "It's statement of British innovation. We figure that in a number of decades all cars will be electric and in order to do that there have to be challenges. You have to have the best technology and learn from innovation and that's something the British are very good at."
You can almost hear "God Save The Queen" or "Jerusalem" playing in the background.