"You Got a Fast car. Is it Fast Enough so We Can Fly Away?"

DRAYSON RACING TECHNOLOGIES TO MAKE WORLD ELECTRIC LAND SPEED RECORD ATTEMPT IN BRITAIN
Tracey Chapman got it spot on with the Drayson Racing Technologies car that will be making an attempt at the FIA World Electric Land Speed Record on June 25 at RAF Elvington in Yorkshire – and it's an electric car too!
Driven by entrepreneur, racing driver and former UK science minister Lord Drayson, the low-drag version of the Drayson B12 69/EV electric Le-Mans Prototype will be putting metal to the floor at an incredible speed all the way along Elvington's 1.86-mile runway in an attempt to beat the current record of 175mph set in 1974 by Battery Box General Electric in the United States.
Why has it lasted so long? Well; I'm glad you asked. It's all to do with the fact that the car is part of the 'less than 1000kg' sector and the technical problems inherent in the weight of motor and also keeping the speed consistent and reliable with an electric engine at such speed.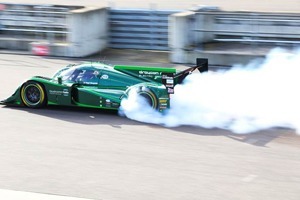 Lord Drayson, CEO and co-founder of Drayson Racing Technologies, understands all the problems that he faces: "It is not the outright speed that is impressive about this record attempt, but the engineering challenge of accelerating a 1000kg electric vehicle to such a high speed and sustaining that speed over a measured mile, before stopping safely all within a relatively short distance then turning round and doing it again within an hour. It's a tremendous technical challenge but we believe it's about time someone moved this record on to demonstrate just how far EV technology has come."
"The reason we are doing this is to showcase the maximum level of EV performance at the moment - and in a real racing car rather than a teardrop-shaped land speed record car. We are also demonstrating the future potential of technologies like wireless charging in speeding the adoption of high performance EVs. It's a great way to build up to the Formula E championship that we are competing in from 2014 and will demonstrate that Britain is at the forefront of this vital technology, which I believe represents the future of the automobile."
Cue "God Save The Queen."
But it's obviously not all about the record, and getting it to be held proudly in this country. After all, Drayson Racing Technologies is a research and development business, and they are hoping to showcase their abilities and what is possible with an electric drivetrain whilst also highlighting what they see as Britain's leadership position in the burgeoning EV industry.
It may come as some surprise to see that the Drayson B12 69/EV wasn't originally idealised as a car to take on land speed records, but once the Lola chassis had been raced in sports car championships around the world powered by a second generation bio-fuelled Judd V10 engine, Drayson decided to look at just how electric drivetrains could be moved on technologically. Not an easy task for the DRT team as they also decided to use the Lola chassis as a starting point rather than start with a blank piece of paper; which meant that the drivetrain had to be fitted into something pre-designed rather than designed around.
And the Drayson B12 69/EV is the result and fruits of their labours – "the pinnacle of what a bona fide electric racing car can achieve in terms of performance" with the traction to achieve maximum acceleration in the short distance available, sustain maximum speed over a measured mile and stop safely.
June 25 should be interesting.