Another Best for The Ford Fiesta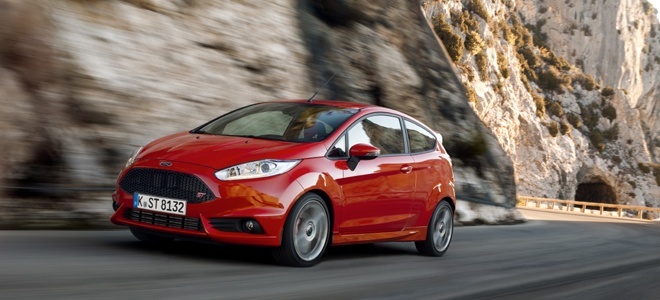 The Ford Fiesta is the best selling car in the UK, and now the Fiesta adds to its 'best' list with the new Ford Fiesta ST taking the title of Ford's "fastest and most dynamic small production performance car ever."
And it's another feather in the cap of Ford Team RS, the European arm of Ford Motor Company's Global Performance Vehicle group, who produced it, tuned the powertrain, suspension, steering and brakes to make sure that any driver experienced the optimal driving dynamics and introduced features only previously found in larger performance cars – but more about that later.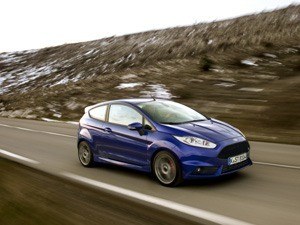 Blessed with a 1.6-litre EcoBoost petrol engine that brings technologies including turbocharging, high-pressure direct fuel-injection and Twin-independent Variable Cam Timing, the Ford Fiesta ST accelerates from 0-62mph in 6.9 seconds with a top speed of 137mph and offers 182PS and 240Nm of torque.
It's not just a 'track' or 'speed thrill' car despite this; with a fuel efficiency of 47.9mpg (combined) and emissions of 138 g/km CO2 – 20% less than the previous generation Fiesta ST – it's there for everyday use, admittedly everyday use with almost 20% more power than the first-generation model's 2.0-litre engine.
"The new Fiesta ST delivers remarkable levels of performance, design and quality to offer an unsurpassed driving experience," said Juergen Gagstatter, chief programme engineer, Fiesta ST. "Ford's European customers are connoisseurs of the hot hatchback and the new Fiesta ST speaks directly to that passion for performance driving."
Being a Ford, the Fiesta ST boasts both SYNC and MyKey, but as stated before there are a few features that you would only expect in larger performance cars.
Let's have a look at the enhanced Torque Vectoring Control (eTVC) and 3-mode Electronic Stability Control (ESC), six-speed manual transmission and rear disc brakes.
Electronically-optimised enhanced chassis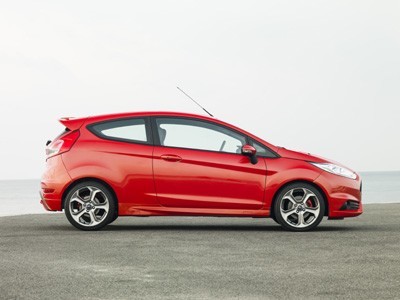 What eTVC does is apply brake force to the inside front wheel of the Fiesta ST when the driver corners, and this improves the car's holding on the road reduces understeering without affecting speed. It uses new software to control the balance in response to the steering inputs and then the ESC offers full system intervention; wide-slip mode with limited intervention; and full ESC de-activation.
Electronic Power Assisted Steering gives the Fiesta ST a sharper steering ratio of 13.69:1 and a shorter steering arm that means that the car responds quicker due to the direct input. Obviously this is helped by the rear disc brakes and the larger tandem brake master cylinder, both of which boost braking performance.
"This car can put a smile on your face corner-after-corner and delivers absolute precision in power delivery and handling," said Tyrone Johnson, Ford Team RS engineering manager.
The ST character
The list of equipment in and out of the ST is extensive: Headlights with LED day-time running lamp technology, new paint options include Race Red, Molten Orange and Spirit Blue, carbon fibre dashboard inserts, alloy-metal pedals and gearshifter, an ST steering wheel, MyKey and the voice-activated in-car connectivity system Ford SYNC.
The Ford Fiesta ST is for the urbanite and the hot hatch fan. Ford have fully tested the new Fiesta to 850,000 kilometres of durability testing, 7,500km of race track testing and 5,000km of high speed testing, as well as a "torture test" at the Nardo Technical Centre proving grounds, Italy, where the tests are aimed around heat with the car being driven flat-out in temperatures in excess of 40 C.
"Many hot hatch fans will want to give the Fiesta ST the chance to shine on the track and we have made sure the Fiesta ST's engine, transmission, chassis and body can handle the extreme use that its performance invites," said Tyrone Johnson.