The Ford Focus Electric: Now Available in the UK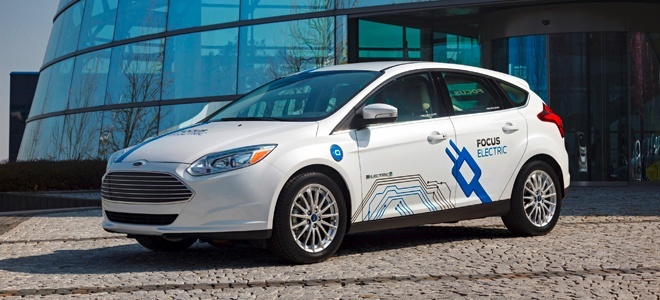 Having already wowed the European market, the Ford Focus Electric is available right here in the UK, making that famous Ford line-up of fuel efficient petrol and diesel powered vehicles even more complete; so much so that Ford now offers 10 UK-available vehicles that boast CO2 emissions under 100g/km.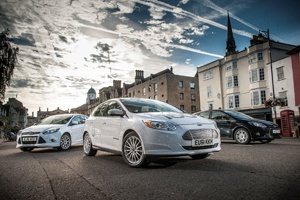 Cars like the Focus ECOnetic, powered by a UK built-in-Dagenham 1.6-litre TDCi diesel engine, which delivers 83mpg and 88g/km, seven powertrains nestling comfortably in Ford Fiesta bodies that deliver sub-100g/km CO2 emissions, and the Focus 1.0-litre EcoBoost 100PS (actually available from 2014) comfortably delivering 99g/km and 67.5mpg. (That 1.0-litre EcoBoost engine was named International Engine of the Year in both 2013 and 2012, and combines "direct fuel injection, turbocharging and variable valve timing to reduce fuel consumption without sacrificing power".
So that's the type of thing that we are talking about when it comes to emissional heritage. But what about this electric range. Words on the street are encouraging and full of praise, but let's put some flesh behind those bones. In fact, it might surprise you to learn that this is not the first Ford all-electric car to be produced. Good old Henry Ford, back in 1913, entered into a partnership with an inventor you may have heard of called Thomas Edison to create a "cheap and practicable… electric automobile." They produced a non-production electrified version of the Ford Model T but the limited battery technology of the time  but the kybosh on it!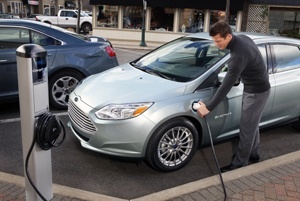 What has the revered and amazingly-named Barb Samardzich, vice president, Product Development, Ford of Europe, got to say about all of this electric car stuff that he is promoting on behalf of Ford?
"Ford has a proud heritage of making innovative technology available to as many people as possible and will provide one of the industry's most comprehensive ranges of sub-100g/km CO2 cars with the variety and flexibility to suit the needs of all our European customers. Ford is leveraging our global experience and expertise to roll-out a range of electrified vehicles that offers a wide and compelling power of choice," he said. "European customers care deeply about the environment and are increasingly seeing electrified vehicles as a way of balancing those concerns with a commitment to car ownership."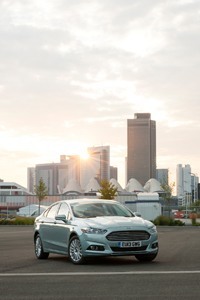 He is talking about a line-up that includes:
The Focus Electric: Top speed of 85mph, 142PS powertrain courtesy of an advanced electric motor and lithium-ion battery, and a driving range of 100 miles on a full charge – with that full charge into the 23 kWh liquid cooled lithium-ion battery pack being achieved in 10 to 11 hours when plugged to 240 volt/10 amp grid connection, and 3-4 hours via a 32A dedicated fast charge station.

The C-MAX Energi (admittedly more European and not planned as of yet to be a Right Hand Drive optional vehicle): Ford's first production plug-in hybrid with a CO2 emissions target of below 50g/km as it easily combines hybrid electric technology with a 7.6 kWh lithium-ion high-voltage battery. When connected to a charging station it can be fully recharged in less than three hours, and is planned to run in pure electric mode for more than 18 miles.

And the Fusion Hybrid with a combination of internal combustion engine with an electric motor and battery. Using battery power alone it can reach 85mph, and when more is needed the combustion engine takes over and charges the battery at the same time. Available in Europe as the Ford Mondeo Hybrid it sets its own fuel economy targets above 64mpg and CO2 emissions below 99g/km.
Visitors to Ford's stand at the Low Carbon Vehicle Event 2013 last week at Millbrook Proving Ground in Bedfordshire were able to drive the Ford Electric for the first time in the UK as well as being able to get an insight into future technologies being developed at Ford's UK technical centres for the next generation of engines led by product development chief Graham Hoare, who enthused about Ford's sophisticated turbo-powered, direct-injection EcoBoost engines.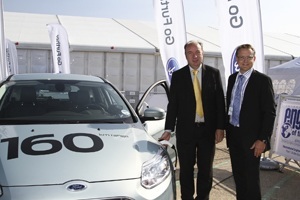 "The internal combustion engine has not reached the end of the road," Graham reassured visitors, but looked into the future. "EcoBoost represents the current 'state of the art' in petrol technology and future improvements will deliver further efficiencies and CO2 reductions. In the medium term the internal combustion engine will remain the high-volume propulsion solution, supplemented increasingly by electrification and mild hybridisation."
But why is Ford getting so worked up over the ecological side of engines?
Possibly down to a Ford-sponsored poll in which 6,028 people were questioned across six European countries; Denmark, France, Germany, Italy, Spain and U.K that showed  that "most Europeans are concerned about the environment and believe the biggest problem facing the world today is climate change" even though "many are unsure of how to lead a 'greener' lifestyle." (Maybe they should read this blog?) Mind you, the overwhelming majority (72%) saw electrified vehicles as better for the environment.
Either that or they think that they are in danger of being left behind!