The Ford Focus Electric

EUROPEAN-BUILT FORD FOCUS ELECTRIC IS IN PRODUCTION
Another chapter has just begun in the history of Ford with the start of production of the all-new Ford Focus Electric in Saarlouis, in Germany.
Barb Samardzich, product development vice president, Ford of Europe, said: "Focus Electric marks the dawn of an exciting new age of full-electric Ford passenger vehicles in Europe, and demonstrates the success of the One Ford strategy in making this sophisticated vehicle available to our European customers."
Because this is the first full-electric vehicle to be built by Ford in Europe.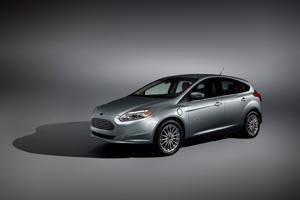 Developed under the "One Ford" global vehicle banner, the Focus Electric is first in a promised long line of electrified and highly fuel-efficient vehicles, soon to be joined in Europe by the Ford C MAX Energi plug-in hybrid electric vehicle in 2014, closely followed by the all-new Ford Mondeo Hybrid soon after.
The advanced electric motor and lithium-ion battery powertrain produces 145PS and can help achieve a top speed of 84mph and a range of 100 miles on a full 3-4 hour charge of the battery – depending on the vehicle usage and environmental conditions. Additional on board power is there too with each vehicle equipped with a 6.6kW fully integrated onboard charger that can achieve a driving range of around 60 miles with 2-3 hours charging from a 32 A power supply.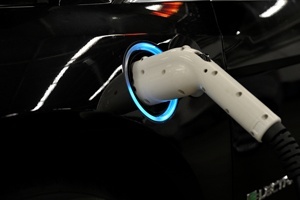 You should never run out of power as the car features a new user interface called SmartGauge which first estimates and then tells the driver just how much energy is left and calculates the driving range based on current and future estimated use. Advanced warning with electric cars is probably more important at the moment than in petrol or diesel cars because of the current paucity of non-home charging locations so this is an important part of the Ford Electric's specification.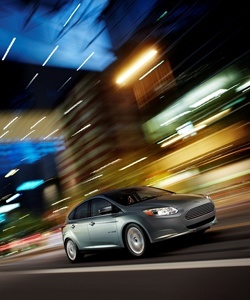 The driver also has both unique braking and acceleration inputs at the flick of a switch (the same being said of climate control and audio systems.) with the braking being utilised by the powertrain to capture up to 95% of kinetic energy that is normally lost by breaking.
And finally, for now anyway, there is the innovative Brake Coach feature which encourages gradual braking to help return more energy to the battery.
The Ford Focus Electric will be coming off that production line at Saarloius along with other Ford Focus cars as the whole thing has been integrated by Ford, meaning that the first Ford Focus Electrics should be reaching customers next month.