Fifth Gear's Tiff Needell Races down Memory Lane at The Silverstone Classic
The 2013 Silverstone Classic (26-28 July) is one of the highlights of the British summer for many, and this year features a record breaking field of 54 Formula Ford single-seaters – the first time ever in the junior formula's illustrious 46-year history that more than 50 cars lined up on the same grid.
And amongst them will be 61-year-old Tiff Needell, the man who once co-presented BBC Top Gear and today fronts the Fifth Gear motoring programme, turning back the clock as he joins the field in the very Formula Ford car that launched his racing career.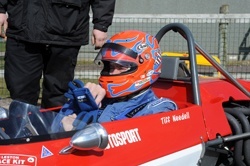 "It's going to be crazy," said Tiff. "Naturally I'm hoping to be out in front at the start and, more importantly, out in front at the finish but with so many cars it's going to be busier than the M25 at rush hour. Whatever the result, though, it will be a fantastic experience for all involved whether they're racing or spectating."
There are two races taking place that Tiff will be taking part in - one on Saturday and one on Sunday - on the full Silverstone Grand Prix circuit, taking Tiff back to his days on the F1 circuit and the Le Mans before becoming not only a familiar face on TV but also on bookshelves with his autobiography Tiff Gear (4.7/5 stars on Amazon!).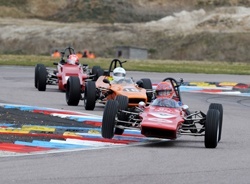 "I'm racing the same Lotus 69F that I won in a competition in Autosport magazine in 1971 – without that I'd probably never even been a racing driver," admitted Tiff (or Timothy as his parents christened him.) "As a special Christmas present to myself, I bought the car back six months ago; I'm thrilled to be reunited with the car and racing it again at Silverstone. It's been almost exactly 40 years since the two of us last raced together at Silverstone in 1973. So much has happened since then and not least to the circuit layout, which is almost unrecognisable now. That said it's still going to be pretty flat-out with lots of great slipstreaming battles, just as it was back then. The big difference now, of course, is that there will be more than 50 cars out there and it's going to be a major challenge just to find a clear lap in qualifying. It's going to be incredible!"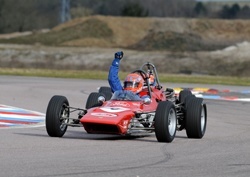 Formula Ford was originally introduced in 1967 as an affordable entry-level route into single-seater racing, and has featured many future champions in its races as they cut their teeth around the world in the races; and we are not just talking any old champions. We are talking the likes of James Hunt, Jody Scheckter, Nigel Mansell, Jenson Button and Michael Schumacher.
Now that's not a bad Hall of Fame Roll Call is it? And so it continues, organised by the Historic Sports Car Club Grand Prix for cars from the first five years of Formula Ford (i.e. those raced before 31 December 1971.)
Also lurking amongst the 54-car entry is Silverstone Classic event director Nick Wigley who will be found inside a Merlyn Mk20, as will former category champion Westie Mitchell (having 'kicked' his teenage son Sam out of the driver's seat on this occasion), Benn Simms, Callum MacLeod, Callum Grant and Michael Mallock amongst others in a line up field of outstanding quality not only in personnel but in cars too!.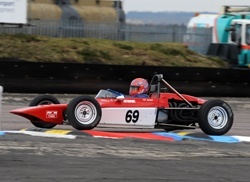 "We have had a fantastic response from competitors," said Grahame White, CEO of the Historic Sports Car Club. "They will all be making a piece of history. I'd like to thank Nick Wigley and his team for the chance to bring Historic Formula Fords to the Silverstone Classic. I'm delighted that Nick couldn't resist joining the grid."
One BIG note though: If you want to see Tiff's high-speed trip down memory lane at the Silverstone Classic, you will have to buy tickets in advance. These tickets are 'access all areas' and include free entrance to all the special classic car displays, both National and Wing racing paddocks and pit complexes, trackside grandstands, live music concerts on Friday and Saturday evenings plus a host of other entertainment for all ages and interests; all for just £35 (plus fees) from the official www.silverstoneclassic.com website.
The whole event is jam-packed with 24 races featuring the world's biggest gathering of historic racing machinery ranging from priceless Bugattis from the Thirties to 200mph Group C Le Mans prototypes from the Eighties as well as the three-day musical festival and a host of family entertainment including free fun fair, retail outlets, a host of interactive activities and air displays, plus huge showcases of classic cars.